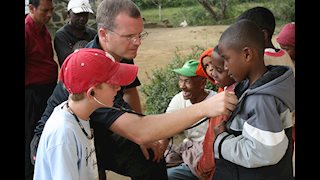 Missionary in Madagascar completes WVU nursing degree from afar
Aaron Santmyire, of Wiley Ford, West Virginia, has lived in Madagascar since 2007 working as a nurse practitioner, a missionary, and a health educator. Traveling down the Manabolo River in southwest Madagascar, he and a group of fellow missionaries and healthcare providers were using a hovercraft to reach a remote village that had never had visitors before. The villagers were struggling with different health issues, and they sent a messenger who traveled for days to request help. Getting to the village required landing on a runway that doubled as a cow pasture, crossing a crocodile-infested creek in a canoe, and then navigating the river via hovercraft.
"The inexperienced pilot of the hovercraft managed to knock down part of a nearby house, run into trees, slam into rocks, and maroon the hovercraft on a sand bar in the middle of the river while his passengers, me included, were praying that we were not going to be the hungry crocs' next meal," Santmyire said.
Once they were off of the hovercraft, the group waded through thick, warm, knee-deep mud and boas swimming around them. "Eventually, we arrived, greeted the villagers, and provided care for their various health needs. Why would we do this? Because each life matters," he said. "It was on this trip that I decided if I was going to risk my life, I wanted to provide superior care to whomever I came in contact with."
After this near-death experience, Santmyire knew it was time to achieve his goal of becoming a WVU School of Nursing graduate. "I always thought it was every boy's dream to be a graduate of WVU and a Mountaineer," he said. Santmyire had always wanted to be a graduate of WVU though his missionary work in other countries made that a challenge. After earning his undergraduate and master's degrees in other states, Santmyire felt like the doctor of nursing practice (DNP) program was his last chance to become a Mountaineer. He began asking WVU nursing faculty about the possibility of earning a DNP degree remotely.
"I began contacting WVU and was pleased to find out that the DNP program was top notch and that I could complete most of my work while living in Madagascar," he said. Santmyire juggled family life (he and his wife Heather are both missionaries) and taking care of his two children, and caring for rural villagers while earning a portion of his DNP degree from WVU. Electricity and internet connection were also concerns for Santmyire because they are not stable there, but he didn't have problems staying connected too often, he said. "The classes are live, so the nights we had class I was up through the night which made for some grouchy days. My wife and kids were great and supportive," he said. "My professors were very helpful and understanding as I was taking the classes in the middle of the night due to the time change."
Santmyire returned to the US for one year and took leave of his missionary work to implement a capstone project for his degree. He created a website tracking project to improve the treatment of a community-acquired bacterial infection of the skin called MRSA in Marion County, West Virginia. Chair of the WVU School of Nursing Charleston Division Alvita Nathaniel, PhD, was Santmyire's capstone project committee chairperson. Once Santmyire implemented the capstone project, he returned to Madagascar to continue his missionary work while he gathered and analyzed data and wrote his final project report. "We conducted his capstone defense via video chat," Dr. Nathaniel said. "He was on his porch in Madagascar, and we could see the birds flying into the trees. We could hear his dogs barking. He told us that he has dogs for protection for his family. For his project defense, he presented a beautiful oral report with very nice PowerPoint slides. This was a wonderful example of distance learning." Santmyire earned his DNP diploma in 2013.
"The nursing program at WVU was such a blessing to me and is being carried over to the Malagasy people as I apply what I learned," he said. "The program has also helped sharpen my skill set, so that I was able to begin teaching in the nursing schools – both rural and urban." If given the opportunity, Santmyire would like to return to WVU and work on a master of business administration degree to help administrate and streamline health services in Madagascar.
Currently, Santmyire is providing dermatology care in two hospitals in northern Madagascar and teaching in a nursing school. He helps treat a variety of different diseases from common problems like eczema and psoriasis to more rare conditions like leprosy and a long-term fungal infection of the skin called chromoblastomycosis. "We are making an impact treating these specific skin diseases, but we have also become a major diagnostic and referral center for leprosy and other tropical skin diseases," he said.
Each day, he is confronted with how fragile life can be in a country where healthcare is less than adequate.
"Conditions that would easily be cared for in developed countries are at times neglected or mistreated, leading to tragic consequences and lives that are changed forever," he said. "On a more positive note, I am amazed by the resiliency and the will to live of the Malagasy people."