Meet our grads: Amy Kennedy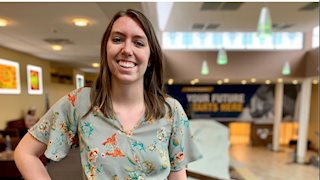 Student name: Amy Kennedy, Doctor of Pharmacy, Class of 2019
Hometown: Parkersburg, West Virginia
Why did you choose to earn a PharmD degree?
Ever since I was a kid I dreamed of being a doctor. When my mom gave me my first chemistry set I couldn't put it down. She homeschooled me until the age of 12, and she always worked so hard to ensure that I never put a limitation on my dreams and gave me so many opportunities to have new experiences to learn and grow. Throughout high school, I was inspired by a local community pharmacist who was always available for my parents and grandparents whenever they had concerns about their medications. It was then that I decided that I wanted to be an advocate for patients through pharmacy. I knew I wanted to complete my PharmD at West Virginia University because of the outstanding program and professors. In addition, Morgantown was like a second home to me as all my siblings had previously attended WVU.
How have the faculty at the WVU School of Pharmacy supported your goals and helped to set you up for success?
I feel that the faculty have really pushed me out of my comfort zone and allowed me to grow in my communication skills, professional skills and knowledge throughout these past four years. They have encouraged community service, leadership and research opportunities to help make me a more successful student and soon to be pharmacist.
Describe your rural rotation experience and how you think it benefitted you.
I completed my rural rotation at a small community pharmacy. My preceptor and other pharmacists there cared so much about their patients and knew almost everyone by name. The trust they were able to develop with the patients was truly powerful, and it helped me to grow my communication skills and critical thinking skills. The rotation showed me that no matter where I practice, I can make a dramatic difference in patients' lives if I care about them and take the time to find out what they really need and are asking from me as a health care professional.
Where will your PharmD take you after commencement?
I will begin a PGY1 pharmacy residency program at Norton Children's Hospital in Louisville, Kentucky, in June. I am so excited about this opportunity as I have a strong interest in pediatrics and want to become a pediatric clinical specialist. My next goal, after the PGY1, is to complete a PGY2 in pediatric critical care.
What are your hobbies outside of academics?
Outside of school, my favorite hobbies include playing bass guitar, keyboard and writing music. I also love to travel and see new places. I was able to travel to Alaska for one of my rotations and spent five weeks exploring glaciers, trails and white water rafting. This was one of the coolest opportunities I had through pharmacy school to see another part of the country and how pharmacy practice can vary from state to state depending on the population's needs.