Back to

News
Grant County Bank Donates $10,000 to WVU School of Nursing Potomac State College BSN Program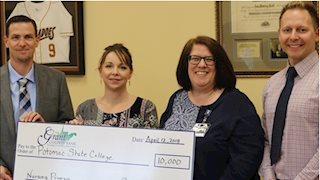 The West Virginia University School of Nursing received its first donation from Grant County Bank for the new WVU Potomac State College Bachelor of Science in Nursing (BSN) program.
The $10,000 donation will be used to purchase a patient care bed in the School's state-of-the-art skills lab and simulation facility. The skills lab will allow nursing students to practice patient care in a multitude of medical scenarios.
"The WVU School of Nursing Potomac State BSN program is integral in helping us meet the ever-growing need for skilled nurses in the state of West Virginia," says Tara Hulsey, PhD, RN, CNE, FAAN, dean of the WVU School of Nursing and vice president of Health Promotion and Wellness. "We thank Grant County Bank for their partnership and leadership in helping us lead this charge."
"Generous donations like the one from Grant County Bank will supplement our program funding to help ensure our Keyser Campus BSN students are learning in the most state-of-the-art, evidence-based simulation environment possible," said April Shapiro, PhD, RN and BSN chairperson for WVU School of Nursing Potomac State. "We are so grateful for their generous donation."
The four year-academic BSN program will be offered this fall on the WVU Keyser campus.
The WVU School of Nursing offers its programs on the WVU campuses located in Beckley, Charleston, Keyser, and Morgantown. The School has a nearly 94% passing rate for first-time test takers of the BSN NCLEX; a 100% pass rate for the ANCC certification exam for both FNP and PNP programs; a nearly 100% job placement rate and receives more than $1.75 million in research awards and grants. The School's online graduate program was ranked 51st nationwide in U.S. News & World Report's Best Online Program rankings.
Photo caption: George Ford, president and CEO of The Grant County Bank, and Tracy Kesner, branch manager of New Creek-Keyser, make a $10,000 donation to the new WVU School of Nursing Potomac State College BSN program. Receiving the donation are April Shapiro, BSN Chairperson and Lucas Taylor, Director of Development, both for WVU Potomac State College. The four year-academic BSN program will be offered this fall on the WVU Keyser campus. For more information about the BSN program, call 304-788-6820 or email go2psc@mail.wvu.edu.