Grateful patient donates hats to patients at Mary Babb Randolph Cancer Center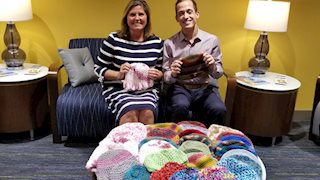 Charlotte Behnke Smith recently donated 40 crocheted hats to be given to our patients at the Mary Babb Randolph Cancer Center.
Each hat is created in a unique way with yarn that was purchased on sale at a local craft store where Behnke Smith works part-time. She crocheted the hats as a gift for other patients to say how grateful she is to her care team and hopes to spread joy to her fellow patients following her recent recovery from breast cancer surgery.
Behnke Smith says that she was able to make the hats over a five or six month period while she was watching TV or relaxing in the evenings. Each hat takes three to four hours to complete.
"We are always grateful when patients such as Charlotte are touched by the compassion of our care team and wish to give back in a meaningful way to others," said Scarlett Schneider, PhD., director of development for the WVU Cancer Institute.
Behnke Smith said the hats are a way for her to give back to the Institute and hopefully provide some comfort to other patients who are receiving treatment at the Mary Babb Randolph Cancer Center.
Caption:
WVU Cancer Institute Development team members Scarlett Schneider and Daniel Hare, with the 40 crocheted hats donated to Mary Babb Randolph Cancer Center by a grateful patient