Harrison County group makes donation to Bonnie's Bus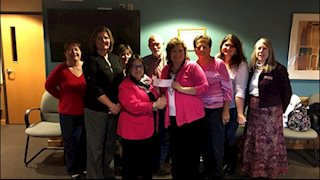 MORGANTOWN, W.Va. – The Harrison County Breast Cancer Awareness Committee held an elimination dinner recently at the Best Western in Bridgeport and unanimously decided to donate all of the money from the fundraiser – $5,000 – to the Bonnie Wells Wilson Mobile Mammography Program (Bonnie's Bus) to offset the costs of Bus visits to Harrison County.
"Our committee seeks to raise breast cancer awareness and to look for opportunities to offer our patients breast cancer screening," James Harris, executive director of Health Access, a free primary care medical clinic in Clarksburg, said. "Collaboration is key for the success of our clinic, and the relationship that we've had with the WVU Cancer Institute and Bonnie's Bus has been marvelous and broadened the services we've been able to offer our patients."
Breast cancer is the most commonly diagnosed cancer and the second leading cause of cancer-related death in West Virginia women. Mammograms are the best way to find the disease early, when it's easier to treat. A service of WVU Medicine and the WVU Cancer Institute, Bonnie's Bus works in collaboration with a statewide partnership of clinicians, public health professionals, women's groups, and other community leaders to bring lifesaving mammography screening to women in areas where access to these services is limited.
Harris said patients in Harrison and Doddridge counties served by his clinic have transportation issues and appreciate the convenience of having the Bus visit their community. He added that the staff and driver are very accommodating, and the mammography screening technology offered on the Bus is first class.
"The Bonnie's Bus team is very grateful to the Harrison County Breast Cancer Awareness Committee for its generous gift to our program," Sara Jane Gainor, director of Bonnie's Bus, said. "The committee is an unwavering supporter of Bonnie's Bus. We are very appreciative."
The Bonnie's Bus Program was established by a generous donation from Ben and Jo Statler to honor Jo's mother, Bonnie Wells Wilson. Since 2009 the Bus has provided more than 15,000 mammograms for women throughout West Virginia, and 65 cases of breast cancer have been detected as a result of having visited Bonnie's Bus.
For additional information on Bonnie's Bus, visit http://wvucancer.org/cancer-prevention-control/bonnies-bus.
For information on making a gift of support to the WVU Cancer Institute, visit https://give.wvu.edu/wvumedicine-wvucancerinstitute.
For more information: Amy Johns, Director of Public Affairs, 304-285-7264