Back to

News
Health Sciences collaboration leads to uncharted territory with nanomaterials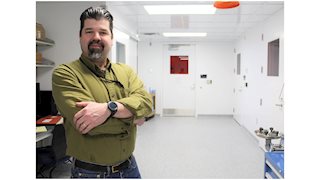 The scientific community is at a crossroads with nanotechnology.
Engineered nanomaterials — advanced materials used in everything from electronics and air filters to cosmetics and medicines — are part of our everyday lives.
But more research is needed to determine in what levels, combinations and concentrations of exposure that these materials are safe for humans, as well as the human risk throughout the lifecycle of these advanced materials.
"If we properly identify the conditions of exposure, the characteristics of nanomaterials that are compatible with human health, the benefits are phenomenal," said Dr. Timothy Nurkiewicz, Director of the Center for Inhalation Toxicology.
Dr. Nurkiewicz and Dr. John Hollander, Director of the Mitochondria, Metabolism and Bioenergetics (MMB) Working Group, are collaborating on the study of these nanomaterials.
Nurkiewicz's research focuses on how inhaled toxicants impact tissues outside the lung, while Hollander's research focuses on the genetic manipulation of genes. Both researchers aim to learn how health outcomes are impacted.
Their collaboration led to the Particle and Fibre Toxicology Best Paper Award for 2019. Specifically, their research focused on how engineered nanomaterial (nano-titanium dioxide) inhalation during gestation affects microvascular health in pregnant rats and the epigenetics of their offspring.
Even under normal conditions, development for healthy outcomes during gestation can be challenging. "Early on, we found there were microvascular effects with inhalation exposure," Nurkiewicz said. "If we expose the pregnant dams to nanomaterial aerosols, that decreases the mass of the pups and the number of the pups."
Typically, rats have a litter of pups. If one or two pups are lost under normal conditions, they are typically reabsorbed, meaning the remaining pups grow bigger to fill the space in the uterus. However, after exposure, the team found the number of pups was down, as well as their mass. "That really screamed microvascular dysfunction to us. The dam couldn't adjust the microvascular blood supply to the developing pregnancy."
Further, through genetic analysis, Hollander's team found there were genes altered with cardiovascular, immune, renal and liver function, as well as development. "It was clear to us that inhalation exposure not only impacted the organ system and function, but also the genetic and epigenetic programming at the cellular level," Hollander said.
Nurkiewicz said the alterations were "a perfect storm of everything you don't want impaired at birth." The rats were exposed four hours a day for seven days. The same results would be achieved in a human working in a polluted environment in 22 days, according to the research.
But Nurkiewicz emphasized that the researchers are not "anti-nanomaterial."
"Rather, we want to identify the conditions of exposure and the mechanisms of effect, so that we can identify safe nanomaterials and appropriate uses that are within tolerable limits for human health. Otherwise, we'll never realize the full potential."
In addition to single toxicants, Nurkiewicz and Hollander plan to study accumulative exposure to multiple toxicants as well. "Nobody is exposed to just one thing. We walk around and develop a collective burden in our lungs of everything we've experienced," Nurkiewicz said. "These results should be kept in mind for even those who aren't in an occupational setting."
Together, the team has investigators further exploring epigenetic alterations during pregnancy. They are also exploring exposure to a mixture of particles and gasses, and how e-cigarettes impact fetal outcomes.
Nurkiewicz says their research would not be possible without both extramural and intramural support. "We have unique resources, facilities and uniquely trained personnel. Only a handful of other labs in the country can do what we do because of the support we have," Nurkiewicz said.
"Many labs are discontinuing this type of research because they don't have the institutional support anymore. We're taking the opportunity to center inhalation toxicology in Morgantown. It puts us on the map."
Neither Nurkiewicz's nor Hollander's labs could individually do what they can do together.
"This is a true example of team science and of how two individual laboratories with distinct expertise can come together to collectively address a timely and important health issue," Hollander said. Nurkiewicz added, "It's because we have the institutional support and encouragement to collaborate outside our traditional boundaries, to have more impactful, powerful research."
Research described above was supported by the West Virginia Clinical and Translational Science Institute. WVCTSI is funded by an IDeA Clinical and Translational grant from the National Institute of General Medical Sciences, under Award Number U54GM104942, to support the mission of building clinical and translational research infrastructure and capacity to impact health disparities in West Virginia.