Health Sciences community invited to West Virginia Writers' Workshop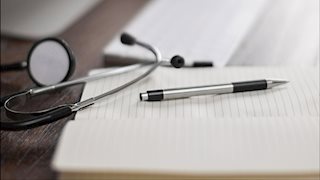 Several events at this year's West Virginia Writers' Workshop, July 20-23 at WVU, are focused on the role of writing and storytelling in health.
Presenters include narrative medicine faculty from several campuses across the U.S., along with the leaders of an expressive writing program for patients at the WVU Cancer Institute.
Health sciences faculty, staff and students are invited to participate in some or all of the Workshop.
The schedule includes:
A talk and lunch on "The Poetry of Healing" led by West Virginia Poet Laureate Marc Harshman, at noon Thursday, July 20
A talk and lunch on "Creative Writing in Healthcare: Healing with Words" led by Lorence Gutterman, M.D., of the Yale School of Nursing and the Frank H. Netter School of Medicine, Quinnipiac University, at noon Friday, July 21
A talk on the intersection of patient and clinician stories, and the use of narrative medicine by to conversations about life-limiting conditions by Erich Grant of the Wake Forest School of Medicine Physician Assistant Program at 1:30 p.m. Friday, July 21
All three talks are free (RSVP requested) and will be held in in the Mountainlair Gold Ballroom. To RSVP for these events, please email renee.nicholson@mail.wvu.edu.
Conference registrants will be able to participate in an in-depth workshop based on the expressive writing project at WVU, featuring Carl Grey, M.D., of the WVU School of Medicine, Renée K. Nicholson and Whit Arnold of the WVU Multidisciplinary Studies program, and Aimee Mepham of the Story, Health, and Healing Initiative at Wake Forest University. The workshop, "The Value of Expressive Writing on Quality of Life and Facilitating Advance Care Planning: A guided exercise for patients with cancer" represents the first interdisciplinary and inter-college collaboration in the area of narrative medicine at WVU.
It will be held at 3 p.m. Thursday, 2:45 p.m. Friday, and 2:45 p.m. Saturday in Room G6 Colson Hall.
A full conference schedule and registration details are available at: http://english.wvu.edu/research/west-virginia-writers-workshop
Funding for this workshop was provided by the Claude Worthington Benedum Foundation, the West Virginia Clinical and Translational Science Institute, and the Programs for Multi- and Interdisciplinary Studies.