Healthcare providers and patients shine the light on lung cancer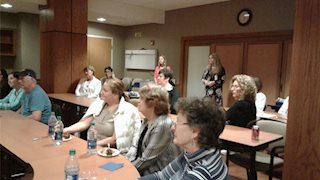 Lung cancer patients and their families shared an upbeat evening with their healthcare providers during the WVU Cancer Institute First Annual Shine a Light on Lung Cancer at the Mary Babb Randolph Cancer Center on November 28. Dr. Patrick Ma, co-leader of the Sara Crile Allen and James Frederick Allen Lung Cancer Program, told attendees that there have been a lot of breakthroughs in molecular targeted therapy and Dr. Aaron Provenzano added that he is seeing more and more cases of excellent response in patients who have received immunotherapy. From a radiation oncologist perspective, Dr. Malcolm Mattes said his department uses various types of technologies that deliver more targeted radiation to the tumor, without damaging surrounding healthy tissue. Patients were advised to avoid tobacco use as nicotine can cause cancer cells to be resistant to chemotherapy. "Smoking is the leading cause of lung cancer; it's like hiring an assassin to hurt you," Ghulam Abbas, MD, chief of thoracic surgery, said.
"For me, it is encouraging to know that there is a multidisciplinary team of cancer specialists here working on our behalf," said the husband of a lung cancer patient. Gloria Michael of Morgantown shared that she was initially diagnosed with lung cancer in 2014 and given one-and-a-half years to live. Four months ago an mri detected eight tumors on her brain. But just last month a second mri revealed that the tumors had disappeared. She credits their disappearance to the targeted drug she's been taking, the care she's been receiving from Dr. Mohammed Almubarak and her strong Christian beliefs. "I just get up every morning and start the day," she said with a smile on her face.
The Cancer Institute lung cancer support group team held the Shine the Light on Lung Cancer event in conjunction with the Lung Cancer Alliance, which provided all participants with a small flashlight that they turned on as the lights in the room were dimmed at the close of the event.