HealthNet Aeromedical Services to provide rapid transport from Reynolds Memorial Hospital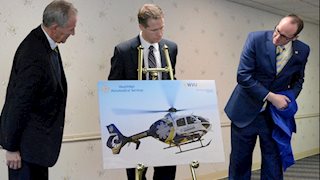 WVU Medicine Reynolds Memorial Hospital officials, including West Virginia University Health System President and CEO Albert L. Wright, Jr., announced on Thursday, Feb. 2, that HealthNet Aeromedical Services will begin operating in Marshall County by July 1.
When a patient is critically injured and care can't be provided in Glen Dale, the patient can be transported via helicopter to J.W. Ruby Memorial Hospital in less than 20 minutes, according to Clinton Burley, president and CEO of HealthNet Aeromedical Services.
Patients from the Wheeling area, Camden Clark Medical Center in Parkersburg (another WVU Medicine affiliate), eastern Ohio, and Pennsylvania will be aided by the critical care transport service.
HealthNet Aeromedical is a not-for-profit service shared by WVU Medicine, Charleston Area Medical Center, and Cabell Huntington Hospital.