Help St. Joseph's Hospital by joining the grassroots advocacy team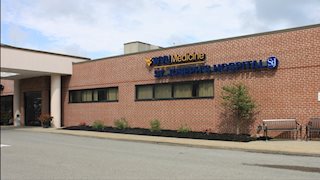 BUCKHANNON, W.Va. -- Are you concerned about the state of healthcare in your community? Want to keep abreast of changes to healthcare occurring on a state and national level? Then join St. Joseph's Hospital in discussing the development of a grassroots advocacy team.
With rural hospitals closing around the country, the time is now more important than ever to ensure that your voice is heard. There is a lot going on in Charleston and in Washington, D.C., that can affect the healthcare that we receive. This advocacy team will help to address those issues and provide a grassroots effort to sustain healthcare in our community.
Meeting will be held at 9 a.m. and 5:30 p.m. on Thursday, Nov. 9 in the library of St. Joseph's Hospital. There is no cost to attend or to be involved in this grassroots advocacy team. Legislators need to hear our voice, so join us for this important discussion.
For more information: Lisa Wharton, Public Relations/Marketing and Foundation, 304-473-2138