Higher and Hire: WVU Medicine HR offers go hand in hand with expansion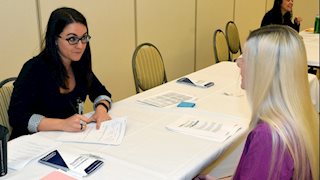 The signs of WVU Medicine's expansion are obvious. Visitors to campus can see progress on the new Ruby Memorial Hospital southeast tower each day, along with renovations to the Physician Office Center.
Around the region, new facilities are set to spring up, such as the $29 million WVU Medicine Surgery Pavilion, which is being built next to its recently-opened primary care facility, WVU Medicine at University Town Centre. A new WVU Medicine clinic will also be built in Marion County, off the Downtown Fairmont Exit 136 of I-79, on the Fairmont Gateway Connector.
The work going on to fill these structures is just as impressive.
Consider: As of April, WVU Medicine Human Resources (HR) had received and reviewed almost 19,000 employment applications – or more than 150 a day.
Through April, more than 600 people were hired for University Health Associates (UHA) and WVU Hospitals (WVUH) positions with many more on the way because of, "tower expansion and additional growth," according to Deveran George, HR manager for recruitment and retention. That total includes 73 new physicians who are signed to come on board this year.
By contrast, UHA and WVUH hired 1,700 new employees, including 70 faculty physicians, in 2015.
The $200 million, 10-story tower will create space for 148 beds (net increase of 114 beds) and be operational by the first quarter of 2017.
The task of filling the new facilities with appropriate staff is as herculean as the construction.
HR is recruiting for 130 vacancies for physicians, 95 of which are new positions and the rest are replacements.
"The focus of physician recruitment has really been in every department due to our growth and needs," George said. "Priorities are many, but some focus areas are cardiology, pediatrics, surgery and medicine positions."
WVU Medicine has already signed physicians to serve as radiation oncology program director, chief of dermatology, specialists for the Heart and Vascular Institute, neurologists, and hematologists/oncologists, George said.
Along with physicians, RN recruitment is also a priority. WVU Medicine has hired 230 RNs through April with 300 more needed to provide adequate staff for expansion. Recruitment and hiring are particularly challenging due to a national shortage of RNs, George said.
In 2015, WVU Medicine hired 355 RNs.
Of the non-physician and non-RN jobs, WVU Medicine HR is also recruiting for nearly 400 positions, approximately 200 of which are earmarked for the tower. Additional new positions are expected to be posted as need arises, George said.
To jumpstart recruitment and promote the WVU Medicine brand and expansion, HR held an open house for RNs, certified registered nurse anesthetists (CRNAs) and advanced practice professionals (APPs) on April 16. Also, they mailed and emailed 200,000 of those providers who are registered with state boards in West Virginia, Pennsylvania, Maryland, Kentucky, and Ohio.
Today (May 2), HR is hosting an Open Interview Day for all positions at the WVU Erikson Alumni Center from 8 a.m. - 6 p.m. Recruiters will be onsite to interview candidates on the spot and to discuss career opportunities at WVU Medicine.