Hitting their stride: Employees among top runners at Stride 5K; photo gallery available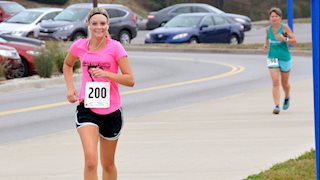 WVU Medicine hosted its 24th annual Stride 5K on Saturday, Sept. 24, in front of J.W. Ruby Memorial Hospital in Morgantown. A photo gallery of the race is available on CONNECT.
The 3.1 mile run and walk attracted around 75 runners and walkers, including several WVU Medicine employees. Kelsey Markham of Nutrition Services was the top employee finisher and second among women overall. The race times of all the participants are listed here. The times for all employee participants are listed here.
The Stride 5K, formerly known as the September Stride, is organized by WVU Medicine Rehabilitation Services. Event proceeds benefit the Richard Rosenbaum Memorial Fund, which provides medication and equipment to patients with cystic fibrosis and other pulmonary problems.
Richard "Rick" Rosenbaum was treated for cystic fibrosis at WVU from the time he was born until he died at age 36 in 1995. His family, including his mother, the late Hilda Rosenbaum, is responsible for creating the fund, as well as the Rosenbaum Family House, which provides a place for adult patients and their families to stay while receiving medical treatment at WVU Medicine.
Photo caption: Caroline Dengler, a nurse at WVU Medicine Children's, heads into the finish. Dengler began working for WVU Medicine the night before the race.