Hospital auxiliary awards scholarship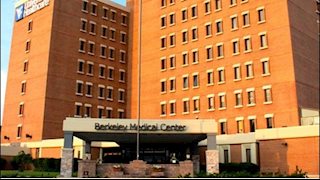 MARTINSBURG, W.Va. – Carole Daly, president of the WVU Medicine Berkeley Medical Center auxiliary, recently announced the 2019 Landis Health Professions Scholarship recipients.
Two of the eight recipients are graduating seniors, while the remaining six are re-applicants from previous years. Each recipient has been awarded a $1000 scholarship to the college or university they will be attending this fall.
The new recipients are Meghan Hess from Musselman High School and Kaylee Rind from Hedgesville High School. Hess will attend Blue Ridge Community and Technical College this fall majoring in nursing. Rind will be majoring in nursing at Shepherd University.
The six re-applicants include Makenna Casto, Valerie Benavides Miranda, Sydney Pennington, Raven Powers, Kaylee Ruffner and Sydney Shaw.
The Landis Scholarship program was established by the auxiliary in 2003 as a result of an endowment from the Virginia Landis Estate. The $1000 scholarship is given to qualified and selected students graduating from the four Berkeley County public high schools studying nursing, pre-med, pharmacy or dentistry.
Recipients are eligible to re-apply for the scholarship up to four years. The executive committee of the Berkeley Medical Center auxiliary selects the recipients annually.
For more information: Teresa McCabe, Vice President of Marketing & Development, 304-264-1223