Hostler remembered at WVU for his generosity, service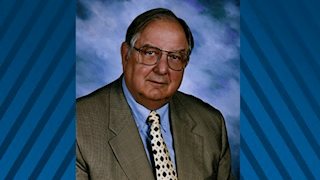 A longtime benefactor, supporter and West Virginia University alumnus is being remembered for his devotion and loyalty to his alma mater.
Stanley M. Hostler died June 11 in Florida at the age of 89.
A 1965 graduate of the WVU College of Law and longtime Charleston attorney, Hostler actively supported various programs across campus for many years, and was a great supporter and advocate for the Health Sciences Center at WVU.
"It's impossible to count the number of people whose lives are far better today because Stan Hostler took action to help others," said Clay Marsh, M.D., vice president and executive dean for health sciences at WVU. "He was an early and generous supporter of the Health Sciences and Technology Academy, which gave hundreds of West Virginia students hope and opportunity. He's funded scholarships that benefitted scores of health professions students at WVU. And he was instrumental in bringing Protea Biosciences to Morgantown, which has created dozens of good jobs. And that's just a tiny fraction of the work he did. All this happened because he was a man who cared about others, and put their needs above his own. That example inspires us all."
Establishing multiple health sciences funds and supporting efforts across the WVU Health Sciences campus, Hostler understood the impact of private philanthropy on education and healthcare for West Virginians. Areas of support included providing funding through scholarships to minority students to better prepare them for health-related careers as well as support for underrepresented students pursuing a degree within the WVU School of Medicine.
The Hostler Auditorium at the Health Sciences Center was named in recognition of his family's gifts to WVU.
"Stan had the most generous nature both in terms of personal encouragement and his philanthropic support of powerful initiatives," said Laura Gibson, Ph.D., senior associate vice president for research and graduate education at the Health Sciences Center. "As such, the University and the Health Sciences Center benefited significantly from his friendship. It was a priority of his to invest in ways that he knew would have positive impact on others whether students, faculty, patients at one of our clinics or individuals far from West Virginia that were in need. He was such a positive force in always putting other's needs above himself, and his amazing family reflects that spirit as well. We will remember him fondly every time we enter the Hostler Auditorium as just one tangible demonstration of his love for WVU."
Hostler's most recently established health sciences funds include the Child Cancer Research Fund, providing support for basic and translational cancer research with an emphasis on bioanalytics, as well as the Child Cancer Research Fund II, a demand fund used to support the WVU Cancer Institute.
Alongside his devotion to WVU healthcare, Hostler also actively supported the College of Law, WVU Athletics, WVU Medicine Children's, WVU Athletics, WVU Extension and other campus units.
"Stan Hostler's legacy of generosity and leadership extends to many areas of his alma mater," said Cindi Roth, WVU Foundation president and CEO. "His love for WVU was evident through his generous giving and his volunteer service, including several years as a member of the Foundation Board. He clearly left an indelible mark on all Mountaineers. We extend our sincere condolences to Virginia and the entire Hostler family."
In 2006, Hostler and his wife, Virginia, received the WVU Foundation's Outstanding Volunteer Philanthropists award for their long-standing dedication to WVU.
Along with his wife, Hostler is survived by three children.
Memories may be shared by visiting www.snodgrassfuneral.com and selecting his obituary.
-WVU-
CONTACT: Hannah d'Entremont
WVU Health Sciences Office of Philanthropy
304-293-1735 | hgdentremont@hsc.wvu.edu