'I have to run with purpose': Erinn's story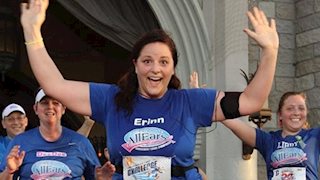 In the weeks leading up to September's WVU Medicine Morgantown Marathon weekend, we're featuring the personal stories of several runners in our community, as told by them. Though they share a common pastime, each of our guest bloggers has his or her own motivation that got them started and keeps them moving.
WVU Medicine is proud to be the major sponsor of the 2016 WVU Medicine Morgantown Marathon Weekend, which includes an 8K race, a half marathon, and a challenging full marathon. In addition, WVU Medicine's annual September Stride 5K is a popular family event for runners of all abilities. Click here for tips on getting your running habit off to a great start.
I hate porta potties.
Like, really hate them. The smell. The thick air. The…everything.
My biggest fear while running a race is that I will have to use one. This fear was realized in my very first marathon. I was in Walt Disney World running the 'Goofy Challenge.' This consists of running a half marathon on a Saturday and following it up with a full marathon the next day.
The morning of the marathon I was so freaked out I would be dehydrated, I drank way too much water and Gatorade in the pre-race corrals. By mile three of the race, my eyeballs were swimming. I told my three teammates I would catch up with them after stopping - at the dreaded porta potty.
Runners are efficient and get into sort of a rhythm of waiting in line, door opens, shuts, wait in line, door opens, shuts, and so on. I noticed this cadence and estimated I could get through the line and run just fast enough to catch up with my friends before they entered the Magic Kingdom. But something went wrong.
The person in front of me broke up the lovely tune of our porta potty dance, and the timing was off. Finally, the runner exited and went on with her race. Horrified, my worst fears materialized when I opened the door. This marathon was the third race that weekend. That porta potty had been out on that road, in the sun, for three days. And that lady in front of me did not pee.
Just three miles into my first marathon, I had faced my greatest fear, then sprinted two miles to catch up with my friends. I went on to finish the Goofy Challenge a mentally stronger (yet physically depleted) woman.
The moral of this story: if you are a runner, you will face some of your biggest fears, but you can't run from them. It is all worth it – every mental and physical struggle, every solitary early morning training run, every unplanned porta potty stop. Every bit of it is worth it. What that worth is varies with each runner.
My running hobby began when a friend of mine asked me to help him raise money for a charitable running group. Because I was a Zumba instructor at the time, he thought I could have a Zumbathon to raise money for Team AllEars, which participated in RunDisney races to drum up support for the Avon Walk for Breast Cancer.
I raised $250 for my friend's run and realized I should have been running with him.
I'm a Disney fanatic and the thought of running through the Magic Kingdom while it was still decorated for the holidays was too much to resist. I had never been a runner except for the few miles I had endured during a local gym's boot camp, but I figured it was something new I could try.
If I hated it, what did it matter? I would be doing something healthy for me. I would have raised money for a good cause, and I would have taken myself to Disney World.
So the next year I joined the team and ran the 2012 Walt Disney World Half Marathon, my first race. I raised over $1,000 for Team AllEars over two years, met some incredible people and found I sometimes liked running. At the finish line of that first half marathon I remember being on a runner's high and exclaiming, "I'm going to run the marathon next year!"
And I did.
The running didn't end with the porta potty incident. Team AllEars friends and I met and formed Nerd Herd Running in 2013 and have raised over $75,000 (and counting) for Stupid Cancer (a nonprofit advocacy and research group addressing young adult cancer) by organizing and hosting virtual races. I also had the honor of running for Nuru International in the 2014 and 2015 Marine Corps Marathons and have raised over $2,000 for them. I've signed up to do the same in 2016.
Some people ask me why I can't just go run a race. The truth is I have to run with purpose or I won't run at all. Early morning alarms don't get the snooze button. Weekend long runs in the fall before noon kickoffs at Mountaineer Field don't seem so tedious. Mile 17 of a brutal marathon isn't so agonizing if I'm running with purpose.
There are payoffs for me. Running with purposes that benefit others gets me out of bed, but I do get some selfish pleasure from it. I get to hang out with some of the best people put on this Earth. I mean it. Sometimes the only thing great about running is runners.
In addition to the obvious health benefits of leading an active lifestyle, there is the feeling that comes with crossing a finish line. That feeling – whether it is at the end of a 5k or a marathon – is unparalleled.
Oh, and running provides a grand stage for a ham like me. Not only do I love themed races with costumes, but I love the instant camaraderie with hundreds (and sometimes thousands) of mostly strangers at a race. Some may find me obnoxious, but I enjoy hooting for, hollering for, and high-fiving other runners. It is hard to pinpoint my favorite running moment, but one I will always treasure is being at the finish line of the first 5k my mom and dad completed. I was and am still so proud of them.
There have been several training runs, races, and porta potties since that first marathon. I'm still running with purpose. I'm still hamming it up at races. I think I will do this for quite some time. It is my hope that new and veteran runners also experience the joy, the highs and lows, and the friendship I have found when I put on a pair of running shoes. Each new challenge is welcome, but, I still really hate porta potties.
Erinn Casazza lives in Morgantown with her husband, Mike, and her beloved beagle, Lilo. Casazza is a proud Clay County native.