'I said to myself, "I am strong:"' Melissa's story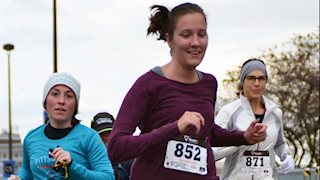 In the weeks leading up to the WVU Medicine Morgantown Marathon weekend, which is Sept. 17-18, we're featuring the personal stories of several runners in our community, as told by them. Though they share a common pastime, each of our guest bloggers has his or her own motivation that got them started and keeps them moving.
WVU Medicine is proud to be the major sponsor of the 2016 WVU Medicine Morgantown Marathon Weekend, which includes an 8K race, a half marathon, and a challenging full marathon. In addition, WVU Medicine's annual Stride 5K is a popular family event for runners of all abilities. Click here for tips on getting your running habit off to a great start.
Let me begin by saying that I consider myself a beginner runner – a "work-in-progress" runner.
In my college years, I was fairly active and ran several 5Ks every year. After I entered the workforce and began a family, my fitness and active lifestyle suffered. I chose to do just about anything, like watch TV or go out to eat, instead of exercise.
I have worked as a physical therapist in the Rehabilitation Services department at WVU Medicine's J.W. Ruby Memorial Hospital for five years. Our department, as a whole, is healthy and active, with several running enthusiasts.
In the fall of 2015, I decided I wanted to get back to running because it is a quick, inexpensive, and effective way to get fit. I knew I needed to squeeze in a workout before or right after work. My coworker, occupational therapist Devon Brand, became my training partner. Devon is an accomplished runner, having completed a marathon, so I knew she was perfect for the job. We prepared for the WVU Medicine Stride 5K, and my goal was to finish without having to walk.
Upon accomplishing that goal, I set my sights on the Deckers Creek Half Marathon in the spring of 2016. I have to admit – the thought of running 13 miles and for more than two hours was very intimidating. Training for this event through the winter months, mostly on the treadmill, was definitely a challenge. I listened to music or watched a show I love on HGTV to distract me and help pass the time on the treadmill.
As spring hit and we could run outside on the rail trail and throughout town, the runs became so much more fun. I looked forward to the fresh air, and the satisfaction and accomplishment I would feel following those runs. Devon was a great support and motivator, and my husband assisted with child care for those dreaded long runs. I cannot emphasize how important it was to have a great support team in place to help me achieve my goals. There were moments when I felt as though I was losing a lot of time with my daughter in order to make time to run, but knowing that she was spending time with my husband or parents and having fun made it easier.
Once I was able to run 10 miles, I felt like the 13 miles was finally in reach. There were days that the training felt easier and more enjoyable than others, but there were also times when my legs felt heavy and slow. I was proud to have made it so far, and I knew that my half marathon dream was within reach.
In addition to the physical training, I also did mental preparation, including speaking positive affirmations. The mental challenges were as large of a hurdle to me, if not more so, as the physical training. Before my half marathon training, I got to about the two- or three-mile mark, mentally gave up on myself, and started walking. During training, when I hit two or three miles, I said to myself, "I am strong" and "I can do this." The affirmations worked; I finished the Deckers Creek Half Marathon on June 4, 2016.
Now that the half marathon is over, I am taking a little break from distance running and focusing more on family and work. I am currently running two or three miles a couple times per week, and I plan to run the Stride 5K again on Sept. 24.
Training for the half marathon really showed me how far I could push myself and my body, and I regained some pride and self-satisfaction in my current health and fitness status. I definitely encourage others to work out with a friend because it makes the exercise much more enjoyable and you are more likely to hold yourself accountable. A year ago, I never would have thought that I would have achieved these running and fitness goals. Hard work and perseverance definitely pay off!
Melissa Burkovich is a physical therapist for the Rehabilitation Services Department at J.W. Ruby Memorial Hospital. She lives in Morgantown with her husband, daughter, and dog.