Back to

News
Interprofessional Education Week provides opportunity for WVU community to celebrate and engage in collaborative learning
On campus, virtual activities planned for March 20-24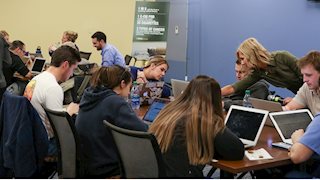 Updated 3/8/23 to include registration information.
The West Virginia University Health Sciences Office of Interprofessional Education will celebrate and share the importance of health care professionals practicing and promoting an interprofessional collaborative approach to person-centered care during a series of events March 20-24.
Featuring a variety of events, Interprofessional Education Week will include a well-being session for the Health Sciences community, an immersive educational event for students, a virtual keynote presentation open to the public and an awards ceremony honoring faculty and students.
For more details and to register for select events, visit the Interprofessional Education website.
Full Schedule
Monday, March 20
Kick off Interprofessional Education Week with "Art in the Pylons" from 4-6 p.m. to learn about using art therapy to promote self-care and stress management. During this event, participants will learn about art therapy and ways to engage in art for self-care. Attendees will have the opportunity to create their own miniature paintings about stress and what helps them restore and rejuvenate, ultimately reigniting sense of purpose in their work. This activity does not require any previous art-making skills. All WVU students, faculty and staff are welcome. Registration strongly encouraged to ensure adequate supplies.
Wednesday, March 22
Participate in an immersive educational event about Curiosity, Accountability, Appreciation, Respect, Empathy and Service (CAARES) in the Pharmacy Skills Lab (HSC-North 3000 wing). The 15-30 minute viewing sessions will take place from 8 a.m. to 5 p.m.; individuals may attend when they are available. This event explores the impact of social determinants of health and unique experiences. The goal is to help attendees become a health care professional who CAARES. All WVU students, faculty and staff ages 18 and older are welcome.
Thursday, March 23
"Josie's Story," a presentation by keynote speaker Sorrel King, will take place virtually from 12-1 p.m. More than 250,000 people die every year from medical errors, making it the third leading cause of death in the United States. All that changed with Josie. Sorrel King's 18-month-old daughter was badly burned by a faulty water heater in the family's new home and was taken to the world-renowned Johns Hopkins Hospital, where she made a remarkable recovery. But as she was preparing to leave, the hospital's system of communication broke down and Josie was given a fatal shot of methadone, sending her into cardiac arrest. Within 48 hours, the King family went from planning a homecoming to planning a funeral. Dizzy with grief and close to ending her marriage, Sorrel slowly pulled herself and her life back together. Accepting Hopkins' settlement, she and her husband established the Josie King Foundation. They began to implement basic programs in hospitals emphasizing communication between patients, family and medical staff—practices which can now be found in hospitals around the country. The account of one woman's unlikely path from full-time mom to nationally-renowned patient advocate, "Josie's Story" is the inspirational chronicle of how a mother—and her unforgettable daughter—are transforming the face of American medicine. Online registration is open to all.
Friday, March 24
The week will conclude with the Interprofessional Education Awards celebration at 12 p.m. via Zoom. In collaboration with WVU Libraries, the Awards for Excellence in Interprofessional Education were developed to recognize the interprofessional education efforts of faculty and students in the areas of education, service and scholarship. During the event, award recipients will be honored and will have an opportunity to share their work through a brief presentation. WVU students, faculty and staff are welcome. Register online.