'It's something I do for me and only me': Stephanie's story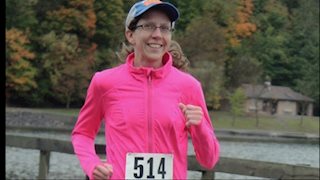 In the weeks leading up to September's WVU Medicine Morgantown Marathon weekend, we're featuring the personal stories of several runners in our community, as told by them. Though they share a common pastime, each of our guest bloggers has his or her own motivation that got them started and keeps them moving.
WVU Medicine is proud to be the major sponsor of the 2016 WVU Medicine Morgantown Marathon Weekend, which includes an 8K race, a half marathon, and a challenging full marathon. In addition, WVU Medicine's annual September Stride 5K is a popular family event for runners of all abilities. Click here for tips on getting your running habit off to a great start.
I've tried and failed to start running many times since my mid-20s.
About three years ago, one try stuck and I became a "runner." I had a little help from some friends. I had this mental limitation of believing that running three miles straight would be too hard for me. Then I joined a running group, "Morgantown's Bad Runners," and with the group's support, I ran three miles, then five, and a year later, I ran my first half marathon.
It's much easier, particularly when starting out, to have good company to distract you from the monotony, the little nagging ache you might feel, your lungs working hard, or just the inner mental voice whispering - or at times screaming - "this is too hard."
Let me back up and tell you about my motivation to start running, for real, three years ago: I get headaches, a lot of stinking headaches, sometimes daily, for months at a time. There's a name for it: Chronic Daily Headache. I've tried a lot of different preventive medications over the years, and my doctors and I have yet to find a medicine that works for me.
I researched the other options out there for headache relief, and among some of the basic recommendations I came across was "regular cardiovascular exercise." This was also something my neurologist, Dr. David Watson, fully supported. I needed that motivation, the hope of headache relief, to get me running on a regular basis, and that's what made me put on my shoes and head out the door, even when I felt tired or when I had a bad headache.
I wish I could say that it worked and I'm pain free. But nope, not so much. There are days I'm sure running helps and there are days I think it makes the headaches worse. But through this process, I've become a runner. Though the headaches are still there, I like to think, overall, I handle them with greater grace. I'm certainly in a better mood overall when I'm running regularly, just ask my husband and daughters.
Now I have to find a new motivation for why I run. For now, it comes down to that it improves my mood and I feel strength from the accomplishment of completing a long run. It's something I do for me and only me. Sure, I like to post my Runkeeper stats on Facebook, and I'm certain I talk about running more than anyone in my family cares to hear, and it's nice to feel like I set a good example for my girls. But, really, it's for me. No one needs me when I'm running, and if they do, they can wait a half hour or perhaps two hours, if I'm on a long run.
I've had some setbacks. I've had a significant injury or two in each of the three years I've been running, mainly because I take a break - because of weather, headaches, or injury - and then I start back into running and I push too hard. I increase my mileage too quickly because it feels good to run, because I'm training for a race, and mostly because I'm impatient.
This past spring I ran 32 miles in April, then 64 in May, which is ridiculously more than the 10 percent rule, which is to only increase your mileage by 10 percent each week. My reward for this idiotic mileage-doubling was groin pain, familiar because I had it during my second pregnancy and also after running my first and, so far, only half marathon.
In my third year of running, after repeating many mistakes, I finally learned from them. I went to see Dr. Gaetano Monteleone in the WVU Sports Medicine clinic for the repeated groin injury, aka adductor tendinitis. He set me straight with a self-care plan that included strengthening and stretching, and best of all, he told me I could keep running, but to be sure that I follow that 10 percent rule.
I'm sticking with my plan and I'm currently running about 15-20 miles over four days a week, thanks to the constant support of my husband. I've gotten my long runs up to 10 miles, with the company of my fierce running partner, Erica Bentley. If all goes as planned, you can find me running the Morgantown Thirteener half-marathon on September 18.
Massage therapist Stephanie Carlson, 41, lives in Morgantown with her husband, Eric, and their two spirited, creative daughters. Carlson describes herself as "determined to a fault."