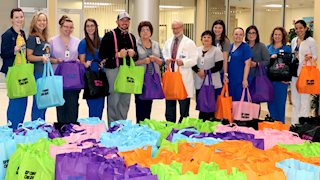 On October 31, the WVU Cancer Institute received a generous donation of 120 chemo care kits dropped off by Robert Colabianchi and his mom Mary Colabianchi. He and his business partner Keeley Humberson, are the founders of KBs Chemo Care Kits.
This non-profit organization was created by Robert Colabianchi and Keeley Humberson and is located in Pittsburgh. This team has assembled and donated more than 1,900 kits since its inception in March 2017. The organization collects monetary and material donations all year round and with the help of family and friends, assembles the kits twice a year, once in the spring and then again in the fall. The non-profit continues to grow, and its donation locations have expanded. This is the second year that the WVU Cancer Institute has received the kits.
Both Colabianchi and Humberson have had loved ones affected by a cancer diagnosis and created the non-profit as a way to let current patients know they are not alone in their fight. "During my time here with my sister I noticed that little things make a world of difference to the other people getting treatment," said Robert Colabianchi, "this helps us make this tough day a positive one and change the narrative from something sad to something positive."
If you feel inspired by this generosity and would like to make a gift to the WVU Cancer Institute to support patients, please contact Tiffany Samuels in our development and philanthropy office at 304-293-8604.