Literacy Volunteers of Harrison County donate books to UHC Pediatrics for Read Across America Day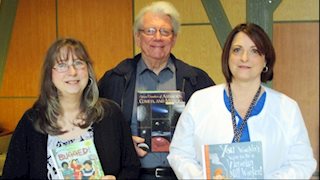 BRIDGEPORT, W.Va. – What better way to mark Read Across America Day than to celebrate it on Wednesday, March 2, the birthday of Theodore Seuss Geisel, also known as Dr. Seuss? To mark this occasion locally, The Literacy Volunteers of Harrison County (LVHC) donated more than 30 books to pediatrics at United Hospital Center.
"Our goal is to motivate children and teens to read with our book donations," Kim Payne, director of Literacy Volunteers of Harrison County, said. "We are pleased to partner with UHC for this special event and delighted that they share in our mission to help encourage the joy of reading."
This year is the 19th national Read Across America celebration. The goal of the program is to build a nation of readers and encourage a lifetime of good reading habits that contribute to academic success for students.
"Our literacy volunteers have a great love of reading; therefore, we want to place books in the hands of children to allow them to have the same experience," Ed Snively, vice president of LVHC, said. "There certainly is an inherent need to promote reading, as we see a real deficiency all across our country."
LVHC provides free tutoring and empowers adults and children with the skills they need to achieve their educational and job placement goals. They offer services to Harrison County residents regardless of age, race, creed, ethnicity, or gender, and the program is not income based.
The program has helped adults, teens and children improve their reading, writing, and math skills. It offers adults help to improve reading and math levels, learn basic computer skills, earn a GED, and pass certification tests and college entrance exams. The ESL tutors at LVHS have helped non-English speaking residents learn to speak, read, and write in English and to pass the Naturalization test.
"We're honored that LVHC has been so generous with their donation to our pediatric patients," Sharon Mitchell, RN, nurse manager of pediatrics at UHC, said. "We know that children who read — and that are read to — excel in life."
For more information on LVHC, services offered, to volunteer, or to make a donation, please contact Kim Payne at 304-624-0533 or go to www.lvhc.org.
Photo identifications: (left to right) Kim Payne, director of Literacy Volunteers of Harrison County; Ed Snively, vice president of Literacy Volunteers of Harrison County; and Sharon Mitchell, RN, nurse manager of pediatrics at United Hospital Center
For more information: Matt Chisler, Director of Public Relations at United Hospital Center, 681-342-1611