Patient shares story of living with a rare heart condition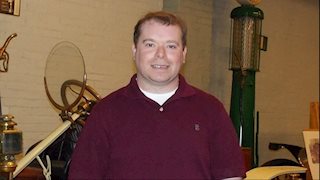 Before Philip Miles was born, his parents Eric and Barbara Miles, of Buckhannon, WV, had no idea their son had a heart condition.
"When I was born, it was more evident because my skin had a bluish tint," Philip said.
He had a rare heart condition called Tetralogy of Fallot, where infants usually have blue-tinged skin because their blood doesn't carry enough oxygen. The Miles family was shocked. In 1980, it wasn't standard care to do sonograms and echograms.
"Having a child with a heart defect was like being on a roller coaster," Barbara said.
The Miles family was referred to WVU Medicine Children's. After close observation and diagnostic tests throughout his childhood, cardiology specialists Arpy Balian, MD; William Neal, MD; and Robert Gustafson, MD, determined that Philip needed open heart surgery – he was 3 years old. Where most toddlers are full of energy, Philip experienced shortness of breath and fatigue. His heart chambers didn't close naturally, and a hole in his heart had to be repaired.
"When Dr. Neal gave us the news that Philip would need surgery, it was difficult, but it was the first step to getting help," Barbara said.
Throughout the stressful ordeal, Eric and Barbara found comfort in Dr. Gustafson and the Children's staff.
"The fear of the unknown and going through surgery was painful, but knowing Dr. Gus would perform the surgery gave us comfort," Barbara said.
The outcome was positive. "All and all things turned out better than they expected for my speedy recovery," Philip said.
Growing up with a heart condition meant there were some activities that Philip couldn't do. "When I was 12, I started to play soccer, but the doctors told me that any type of contact sport could be harmful, so I had to stop. In middle school and high school, I decided to play trumpet, and I never had any trouble, even during grueling summer band camp days," Philip said.
To monitor his condition, Philip has an annual check-up and an echocardiogram at WVU Medicine.
In 2007, when Philip was 26, he needed a second heart surgery to decrease pressure to his heart wall because a pulmonary valve problem had caused his heart to enlarge. Gustafson also performed the second operation.
"I was having a lot of difficulty keeping a job due to shortness of breath and fatigue. After my second surgery, I had some post-operation issues, so I had to stay in the ICU for a few more days. Within just a few months though, I was ready to get back to work," he said.
Philip lives in Sandyville, WV, and works at WorkforceWV, where he assists with training programs for people who have been laid off from their jobs. He enjoys biking, photography, fishing, and traveling.
"I am grateful for having a family that through thick and thin made sure I'd be able to live a healthy life," Philip said. "I'm very grateful for the medical staff at WVU who made sure I was cared for during both of my operations. Also, I am thankful to God for giving Dr. Gustafson his skills, ability, and talent for my well-being not just one time, but two."