Back to

News
Local fundraiser to benefit cancer patients at WVU Cancer Institute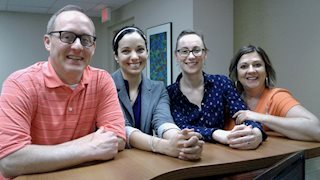 MORGANTOWN, W.Va. – Staff in the WVU Cancer Institute Clinical Trials Research Unit (CTRU) are holding a fundraiser to help patients at the Mary Babb Randolph Cancer Center.
The fundraiser, involving local organizations on High Street and presented by Nexgen Industrial Services, will be held in downtown Morgantown on Saturday, June 23, to benefit the Comfort Fund at the Cancer Institute.
The fund provides temporary assistance to oncology patients for various areas of need associated with cancer treatment including medication costs, lodging, transportation, and other supportive and social services.
During the event, participants will make hourly stops at five different establishments on High Street, beginning at 5:00 p.m. The event will also include an auction, prizes, music and dancing. Participants must be at least 21 years old.
Additionally, the event will include a scavenger hunt and a card draw at each stop with the highest and lowest hands winning cash prizes.
Bobbie Spear, a CTRU data manager, who originated the idea, formed a committee comprised of her colleagues to promote the event. "We interact with and care for patients who visit the Cancer Center and are aware of the various financial hardships many of them are facing, and we want to support them," Spear said, noting that the goal is to raise $15,000 for the Comfort Fund.
Tickets are $40 each, which includes a T-shirt. Tickets must be purchased in advance by June 8.
For more information and to purchase tickets, email Bobbie Spear or call her at 304-276-1220.
Photo: WVU Cancer Institute fundraiser committee members (l-r) Joe Malcolm, Christina Blevins, Yvonne Shaw and Bobbie Spear