Marsh names Ramsey chief collaboration officer for WVU Health Sciences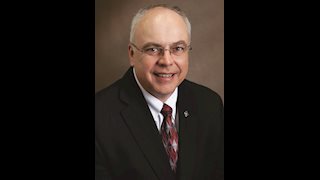 Clay Marsh, M.D., vice president and executive dean for West Virginia University's Health Sciences Center has tapped William D. Ramsey, M.D., to serve as chief collaboration officer and director of coordination and logistics for WVU Health Sciences.
Dr. Ramsey joins the organization today, Aug. 17, and will provide leadership and oversight on healthcare initiatives involving multi-stakeholder collaborations across the state. In this capacity, he will evaluate local implementation factors and help create innovative delivery systems to improve and facilitate more effective healthcare operations.
"Once again, we're thrilled to welcome another Mountaineer home," said Dr. Marsh.
Ramsey most recently served as chief medical office for Healthcare Management Solutions, in Fairmont, West Virginia, where he provided clinical leadership and input for strategy development and physician project management.
He was also the founding program director of the WVU Emergency Medicine Residency Program and the state EMS medical director. He was active in leading the development of West Virginia's Statewide Trauma and Emergency Care System and helped create the state's Interoperable Emergency Communication Network.
"Dr. Ramsey's connectivity in the state's extensive network of organizations dealing with projects related to health, safety and education and his background in medical review, systems monitoring and procedures protocol will allow WVU to strengthen healthcare operations and reinforce grassroots connections in the state," Marsh said.
He received his Bachelor of Science and Doctorate in Medicine degrees from WVU and completed his residency training in emergency medicine at Akron General Medical Center in Akron, Ohio. Ramsey is a fellow of the American College of Emergency Physicians and a Diplomat of the American board of Emergency Medicine.