Marsh, Wright to look forward to 2017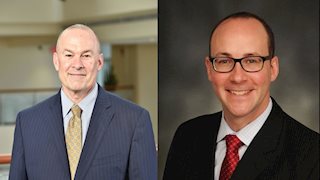 Faculty, staff and students invited to discuss future of health at WVU Jan. 18
With a new year comes new challenges in healthcare delivery, education and research. On the national and state levels, debates about health policy, the role of science in society, and the future of insurance programs are front and center.
What's ahead for WVU Health Sciences and WVU Medicine in 2017?
Join Clay Marsh, M.D., and Albert L. Wright, Jr., for a wide-ranging discussion of the changes we've experienced in the last year and the prospects for the future.
Dr. Marsh is vice president and executive dean for health sciences at West Virginia University. Wright is president and CEO of the West Virginia University Health System and West Virginia University Hospitals.
The session, being held at noon Wednesday, Jan. 18, in Room 1909 Health Sciences South, is open to all faculty, staff and students from across the campus, and will be broadcast to the Charleston and Eastern campuses of HSC.
Both leaders will answer questions from the floor after the presentations.