Medical student shows the perks of coffee roasting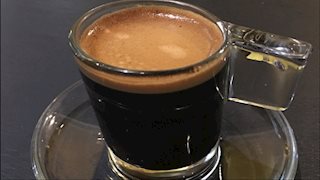 Stop by for a sample -- Wed., Oct. 12, 10 a.m., Fukushima Lobby
Coffee is the indispensable drink that gets most university students through the hectic days and nights of classes, work and studying. In other cases, it's a lifestyle. Sharing hot brew with friends is cool.
It just so happens that the School of Medicine has its own coffee connoisseur. Second-year medical student, Jeffrey Cannon, will be demonstrating some exotic roasting techniques and specialty coffees during WVU's Diversity Week activities on Wed., Oct. 12, 10 – 11 a.m. in Fukushima Lobby. On your way to class, stop by and sample some of his favorites from around the world.
We met up with Jeffrey recently to learn what it is about coffee that gets him percolating.

Tell us how you became a coffee connoisseur?
College made me a coffee drinker. My senior year, I started roasting coffee with some guys in my dorm. As a science major, I was predisposed to experimenting. I read several books on coffee sourcing, roasting, and brewing which led me to purchase my own roasting equipment. I've been roasting for one and a half years now, and I learn something new every time I roast!
Tell us a little about what the Coffee Tasting event will entail?
We will be seeing, feeling, and smelling what green coffee beans look like before they're roasted and also what they look, feel, and smell like after roasted to their specific profile. Then, most importantly, we will taste coffee to see what comes through the bean to the cup!
How will this event tie into Diversity Week?
Have you ever thought about from where your coffee came? Does it come off the tree in K-Cups? Or is there a world of coffee production waiting to be experienced? Coffee tasting will tie in with diversity week by highlighting the backgrounds (no pun intended) of the diverse coffee world which fuels our higher education.

What is your favorite type of coffee and why?
I enjoy a single origin, high altitude grown Ethiopian coffee which has a unique flavor of acidic, yet sweet citrus. Honestly though, a well-brewed cup of Folger's is pretty good too!
Tell us a little bit about yourself – where you're from, why you want to be a doctor, why you chose WVU?
I am from Beckley, WV, and when I went on a medical missions trip to Kenya during my freshman year; I knew I wanted to spend my life influencing others as a physician. After finishing undergraduate work in Florida, I found myself longing for the community and mountains of West Virginia. WVU School of Medicine was my number one choice for medical training due to the reputation for academic success, family-oriented environment, and rural health emphasis. I am proud to be a Mountaineer!