Meet Our Grads: Erin Nelson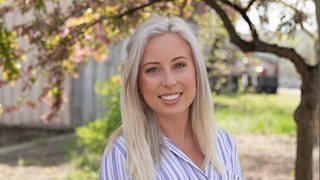 Program: Bachelor of Science in Public Health
Area of Emphasis: Public Health Sciences
Hometown: Charleston, WV
How do you define public health?
Public health is a community of organizations that join together to combat or mitigate the harmful health effects of other institutions in society. It is the fight for prevention against adverse health effects individuals face every day.
When did you know that you wanted to study public health?
I always knew I wanted to do something in the world of healthcare – I just wasn't sure what direction to go in. I chose to pursue a public health degree because it left room to discover what inspires me most. Public health offers the platform to pursue health from every angle.
Who has made an impact on you at WVU?
WVU offered me a place to grow as a person. The School of Public Health provided a great faculty that facilitated this growth. Every professor I had during the duration of my Public Health courses left an impact on me. They gave me the knowledge and tools to understand the world around me and the many issues we face at a societal and individual level.
Two in particular, Dr. Douglas Myers and Dr. Michael McCawley, both have such an impressive amount of knowledge and experience in this field. Through vivid examples they showcased what/how/when issues arise that cause harmful health effects. Both of these professors changed the way I look at the world around me.
How has WVU and public health ended up being the right fit for you?
I take pride in being from West Virginia. However, our state has a wide variety of health issues. I think this made the issues we talked about in our courses hit closer to home. It inspired me to want to be a part of fixing these problems.
What is your ultimate career goal?
I want to further my education and am in the process of applying to accelerated nursing programs. I ultimately want to be a public health nurse. I think my public health degree combined with a nursing degree would give me a uniquely holistic view of healthcare.
What is your advice to future public health students?
First, get a solid group of class friends. These will be the people who you go to the library with, give you advice, and are your support system. The classes are smaller so you have the opportunity to get to know your peers and professors on a personal level which can greatly enhance the education experience. Also, joining the Student Association of Public Health (SAPH) is a great way to do this.
Next, I would also say to take advantage of opportunities that are posted in the weekly newsletters. Going to those meetings and events are a great way to meet people who can help you in the future.
Lastly, I would tell them to talk to their professors. Every professor in the School of Public Health is so approachable and wants you to achieve. Professors often say "the public health community is small," so getting to know your professors can open doors for you in the future.