Meet Our Grads: Krystal Capers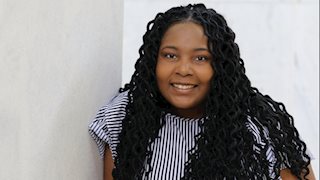 Program: Master of Public Health
Major: Epidemiology
Hometown: Jackson, NJ
Krystal Capers always wanted to go to medical school, but as she finished her bachelor's degree in biomedical engineering, she found another calling.
"I had spent some time interning with National Institute for Occupational Safety and Health (NIOSH) the summer before my senior year and completed my senior design project with them," said Capers. "I enjoyed the work they were doing and decided I wanted to continue my education in public health before continuing on to medical school."
Capers is no stranger to finding and creating opportunities for herself.
When she started at WVU as an undergraduate, Capers didn't know any other students. So she looked for ways to create community and get involved because, she said, she "wanted to experience a large campus with a small university feel."
Capers quickly found her comfort zone. She joined the WVU marching band and participated in the Academic STARS scholar program, a summer program sponsored by the WVU Center for Black Culture and Research. Capers also served as a resident assistant at two different campus dorms during her undergraduate years.
When she started her master's program in the School of Public Health, Capers continued to stay involved and build relationships with her peers and faculty.
"I knew I wanted to become involved in student organizations, such as the Student Association of Public Health," she said. "The community in the School of Public Health is very welcoming and encourages students to stay engaged throughout their educational journey."
Capers also credits her success to the highly qualified faculty who have broadened her understanding of public health and "challenged [her] way of thinking."
"The faculty and staff were extremely supportive during my process as a graduate student," Capers said. "The professors in the Public Health program are amazing to learn from and experts in their field. I loved being a part of the School of Public Health as a master's degree student."
With graduation approaching, Capers is looking forward to the future. She hopes to gain work experience as both an engineer and epidemiologist before embarking on medical school.
"I have an eclectic range of interests, such as sports medicine, infectious and communicable diseases, mental illnesses and global medicine," she said. "My ultimate goal is to continue on to medical school and become a physician."
When asked what advice she would give herself and other incoming, Capers said: "Continue to push toward your goals even when you don't want to. Your experience at WVU depends on what you invest in it."