Meet our grads: Lance Hare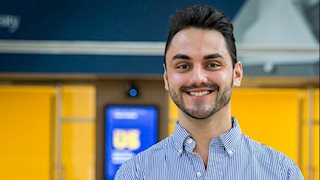 You took time to think hard about the career path you wanted to take. How did you end up at WVU?
I first started when I was 21 as a nutrition major, but I got to a point where I didn't feel like I wanted to be a registered dietician anymore, so I decided to drop out and go back to the drawing board. I went back to working retail as a full-time manager, and after a while I thought, "Hey, WVU has an exercise physiology program—that might be worth looking into." And so I did. While researching what I could do with the degree, I was thinking that this would be a cool stepping stone to get my feet wet in medicine for PA school. I came back to WVU at 25, which was just over two years ago.
What does exercise physiology mean to you?
A lot of times I get, "Oh, so you're going to be a professional trainer," and although it's not uncommon for personal trainers to have an exercise physiology degree, I usually explain to them that it's really a physiology pre-med degree. Personal training, periodization training and weightlifting is just a small piece of the puzzle.
Check out our interview with Lance!
Are there any faculty members that you feel like really helped make sure you were on the right track—who you feel is really championing you?
Oh, I've had a lot of help. Professor Mark Schraf, he's a Chemistry 110 professor here—awesome guy. He was my drum teacher as a kid, and he haphazardly reffed a lot of my hockey games growing up. He does all kinds of things, he's a really hard working guy, and he was there from day one when I started as a nutrition major and he'd invite me into the chemistry learning center where his office is and he'd give me pep talks and I had him as a professor and he helped me a lot too, and he was also really hard on me. But it helped. So he was definitely a huge help for me in the whole process, because I always had him to relate to because he knew me growing up and he could sense that I wanted to work hard.
And then of course Dr. Olfert—huge help. Since I've been into his lab the last year, I feel like Dr. Olfert's probably taught me more about being in this field, research, he's taught me how to speak vocally, through writing, he's taught me how to critically analyze and think. He's been a huge help. So those are kind of my second and third dads, I guess. And of course, Dr. Bryner and Dr. Chantler, my advisor, they've also been a huge help.