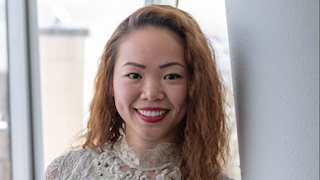 Mei wanted to do more than manage a dental office - she wanted to be a part of the clinical staff.
You have worked hard but came into the program a little differently than maybe some others. You were already kind of in the industry, weren't you?
Prior to coming into the program, I was a dental office manager for four and a half years before applying for the Dental Hygiene program.
You decided to switch to the other side of it - what was that initial experience in a dental office?
Yeah, having the business side of dentistry definitely helped me in certain ways, because I am aware of all the (American Dental Association) codes and also the business aspect of dentistry by communicating effectively to the clients. And I love the experience of that patient one-on-one experience and getting to know the patient. And I used to do all the treatment presentations with the patient, and I thought I really want to help this person out physically instead of just communicating with the patient, this is the treatment that you need and explaining to them why they need it. And by me going to the clinical aspect, I can actually physically treat the patient myself and help them get into an optimal oral health, and that's why I went to the client-patient care.
Check out our video interview with Mei!
When did you know you had made the right decision for you?
I think it all started from getting that interview. I was so excited getting on the phone and interview with five or six either faculty and students on the phone interview. It was during my lunch break at work, and I was like "What?" And I think I probably blew the people out of the park just because I was so excited, and I think that was probably one of the reasons why I got accepted into the program. So whenever I got accepted into the program and I visited School of Dentistry, and I loved how friendly everyone was and I love the pace that it was going.
What has been your favorite experience at the school, going on this journey?
Seeing the progress of the client's oral health, seeing the progress of the client's improvement in their oral health at their next appointment. We have patients are assigned to us and we will see these clients until we graduate, so we build long lasting relationship with them. And then also you build relationship with them, and they trust you and you know they trust that you give them optimal exceptional oral health care and seeing their improvement makes me feel awesome and proud. And then also feel proud of myself, and the client, for following up with their oral hygiene care at home, and coming in regularly for their preventive dental appointment.