Meet our grads: Quintin Brubaker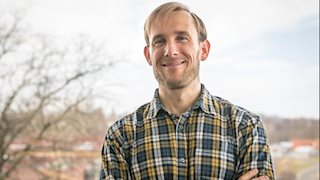 You're very passionate about improving rural healthcare. What experiences have you had that really reinforced that passion?
While I was working in EMS in rural communities in Virginia, I really recognized how much healthcare and primary care needs were being unmet, and I wanted to help the people in those communities stay well, rather than be the emergency responder who shows up when things have already gone wrong.
How has being part of the rural health track impacted your medical education?
Our first experience as rural health student came that first summer. We were placed in rural clinics throughout the state. I went to Romney, West Virginia, which is in Hampshire County, it's pretty close to my hometown on the Virginia side of the line. I worked with a clinician there who had, similar to me, he had entered med school a little bit later in life and come to it with a strong sense of wanting to serve his community. He was this first example to me of family medicine being practiced in a small community in the variety of stuff that he did and the variety of ways that he was able to impact people made the biggest impression on me.
The rural track is about, I feel, getting more clinicians into rural communities that needs them. While the track provided me with a bunch of personal opportunities for academic and career advancement, that bigger goal of getting, not just me, but maybe a whole bunch of graduates from here more interested in rural communities and primary care careers is just such a worthwhile goal.
Check out our interview with Quintin!
When did you know WVU was the right place for you?
WVU was on a pretty short list of schools that I was really interested in and got the applications in, and then when I came here to interview just the positivity and welcoming attitude of everybody that I met here—from the current students, to all the administrative people and folks in the dean's office, that was just so palpable in a way that can't be faked, I don't think. That really stood out to me about the school itself, and then WVU being in West Virginia, which is a state I was already very familiar with as an outdoors paradise with all these activities that I love. Put those two things together and it was pretty hard to argue with.
Do you plan to stay and practice in West Virginia?
Yeah, after my family medicine residency here at WVU, I absolutely am planning on staying in West Virginia and rotating in numerous communities here. I've had positive experiences in everywhere I've been and I think the hard part will be picking which place that I land. Proximity to my family over across the border in Virginia and proximity to the mountains, and the trails and some of the forests where I love to hike and hunt and things like that, those will probably go into the equation for me.