MEET OUR GRADS: Sam Plantz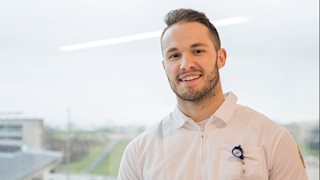 Nursing allowed him to pursue his passions.
Why did you choose the WVU School of Nursing?
I chose WVU school of nursing because it allowed me to purse the passions, pursue my gift if you will, my need to interact with people, my love for medicine and the human body, and do good for others. Nursing gives you the opportunity to be with someone at their darkest hour and it gives you the opportunity to be with someone at the happiest moment of their life. And being able to have that caring nurturing side for patients, for strangers, is very important to me.
What will your degree allow you to do?
My degree will allow me to put both of my passions together. My passion of nursing, my passion for health and fitness and personal training. My tenure plan is to bridge that gap together, be a primary care provider for someone, also be a personal trainer, work on all of the different aspects of health and fitness.
Did you always know you wanted to be a nurse?
I didn't always know that I wanted to be a nurse, but I did know that I wanted to go into the health care field. It was in high school. A teacher, Doc Crouch, really introduced my to medicine and health. From there when I transferred into WVU I knew that I could combine the need for wanting to help people but also medicine. One summer working as a CA, sitting with an elderly woman, just being able to spend 45 minutes of a busy shift just talking with her, providing just the care and nurturing that she needed, it was sort of there that it was like "Wow I get to meet strangers every day and I get to make a small impact on this long life that they have."
Did you discover what you wanted to do while you were here?
Yes I did. When I got here, I knew I needed nursing in my life. I knew I wanted to do the nursing, but I never would have guessed that personal training would be this other path that I was gonna take. It was a friend in nursing actually that kinda strong armed me into doing personal training, and ever since then I've been hooked. The opportunity to work with people inside the hospital and out, combining my love for exercise and fitness, taking care of your body is very important to me, and because of that I found two passions that I one day to plan to make my future.
What was your pathway to nursing like?
My path into the school of nursing certainly had it's twists and turns. It was a bit of a bumpy road at first. Fortunately here the program does offer direct emits out of high school. I was not that case, I transferred in from a different school. I was wait listed for about a year and a half. I got admitted into a spring semester. Three days into that fall semester prior somebody dropped and I bit at that opportunity. I definitely didn't give up on that dream and that passion and I'm very thankful for that. Here I am five years later about to graduate and choosing the school of nursing was the best decision that I never intended to make. To anyone that's considering it, to anyone that gets wait listed, if it's truly in your heart if it's truly in your bones, do it. Don't give up. It's the best decision that I ever made.
Was there a personal moment, or inspiration, that led you to nursing?
A teacher my junior year taught an anatomy physiology class. His name is Doc Crouch. I know specifically that he has sent people here to medical school, to nursing school, pharmacy school, dental school. He's had a major impact on the George Washington community and it was because of him that knowledge and truly that message that you need to follow what you love, you need to do what you love. And they always say if you're doing what you love you'll never work a day in your life. And that's true, and that's not always true, but because of him and because of this path I've been led down on into nursing, I know that I'm going to enjoy what I do for the rest of my life. I know that I'm going to get to work with people that help people for the rest of my life, and that's very important to me and I'm forever grateful for him.
What would you tell to the high school seniors who want to go into nursing and aren't sure if WVU school of nursing is the right school for them. What would you tell them about coming here? Why should they chose WVU for nursing school?
WVU first and foremost is a lot of fun. It's not as crazy as it may sound, because you can get lost in the commotion or you can find yourself. I was fortunately able to find myself here at WVU. Aside from everything else, the clinical hours you receive, the experiences you get, the teachers that we have, are bar none the best here. The people here that you meet, your friends, you go through this all together. The toughest time of your life, and you're able to come out learning more than most other schools with more experience than most other schools, learning from teachers with more experience than you could ever imagine.
Why should someone get into nursing as a profession?
I think that nursing is not for everyone, but if you do have compassion for others, you can find the empathy for others, and if you're looking for a job, nursing can provide that. Nursing is not the quick fix for money, it's not an easy thing to do, it's not something for everyone, but nursing does allow you the opportunity to help an individual in a way that you could never help anyone else. It allows you to see things. You can travel, you can experience, you get to learn everyday, you get to collaborate with others, with doctors, with physical therapy, with occupational therapy. It is a big, big world with a lot of opportunity, and I think it's the best decision that you'll ever make.