Back to

News
MEET THE GRADS: First generation college student's fascination with physiology sparks career in physical therapy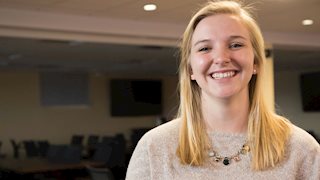 (Editor's Note: As commencement nears, WVU Health Sciences is featuring some of our most dedicated graduates. Here is the story of one of those students.)
It was curiosity and the desire to help others that sparked Kelsie Gillespie's fascination about the different physiological mechanisms that help people recover. A first generation college student and graduate of James Monroe High School in Lindside, West Virginia, Kelsie chose to earn her bachelor's degree in exercise physiology with an emphasis in aquatic therapy at West Virginia University.
"I have always been into sports," Kelsie said. "In middle school, one of my teammates suffered from an ACL injury, and I was with her on court and saw her as she went down. I was really surprised when she came back from rehabilitation, and that piqued my curiosity and interest in a physical therapy role in recovery."
Getting into a professional health program can be difficult and choosing the right school can be even more challenging. But Kelsie had her eye on WVU and explains why it was her first and only choice.
"WVU is a large campus, but it has a small campus feel where everyone is friendly and cordial," she said. "Growing up in a small community, Morgantown provided more of a city experience and has opened my eyes to a lot of things."
Reflecting on her experience, Kelsie reiterates how strongly WVU values students' education and how invested faculty and staff are in equipping students with the skills and knowledge they need.
"The exercise physiology program at WVU supplies the best in the state," Kelsie emphasized. "It furthers your understanding as you discover that there are various non-pharmaceutical techniques that will aid patients without medicine. I have had great professors and mentors, and my aquatics professor, Lori Sherlock, had a profound impact on me. Her energy for exercise physiology in the aquatic environment escalated my excitement for the water and all the benefits it provides for patients. It really helped me to realize that I want to do this and utilize it in my practice in the future in physical therapy."
Kelsie credits WVU with the diverse array of enjoyable and rewarding activities available for students, something she stresses has not only helped her overcome an overwhelming transition from a small county, but also gave her a fresh perspective on community service.
"Starting off as a freshman, I tried to get involved as much as I could in meeting new people, and it gave me a love of giving back to my community and an overall appreciation for our campus," she said. "I am an ambassador to the university through the admissions office – that's where I get to talk about my love for WVU – and I am also part of the presidential board for exercise physiology which promotes community service and provides many activities for people in our club and in our major."
Kelsie is not stopping there. She was recently admitted to the physical therapy program in the WVU School of Medicine starting in fall 2016.
"After graduation, I will be continuing my education in WVU's three-year physical therapy program," Kelsie said. "After that, I plan to return home to southern West Virginia to take the next step in my career."
Coming from a hard-working family who instilled a strong work ethic at a very young age, Kelsie has key advice for prospective students. "Treat your education as a job; you need to go to class, work hard, do as much as you can and if you have time, go to the Mountaineer games!"
The School of Medicine will hold three commencement ceremonies during the weekend of May 12-14, 2017: Ph.D. candidates at 9:00 a.m. on Fri., May 12 in WVU Health Sciences's Okey Patteson Auditorium; medicine doctoral candidates at 6:00 p.m. on Fri., May 12 at the Creative Arts Center; and, professional programs candidates at 4:00 p.m on Sun., May 14 at the WVU Coliseum. All ceremonies will be webcast live at www.webcast.wvu.edu. Following the events, videos will be available for viewing on WVU's official YouTube channel, WestVirginiaU. For more information, visit WVU's commencement website at www.graduation.wvu.edu.
For news and information on the WVU School of Medicine, follow us on twitter @WVUMedSchool, like us on Facebook or visit medicine.hsc.wvu.edu.
--WVU--
des: 4/25/17
Contact:
Tara Scatterday
Director, Communications and Marketing
WVU School of Medicine
tdscatterday@hsc.wvu.edu | 304-293-0630