MEET OUR GRADS: Paul Burchard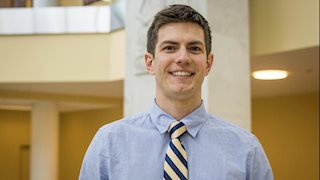 Describe your journey leading up to graduation—what made you want to go to medical school
Ever since a physician visited my seventh-grade science class, I wanted to go into medicine. That dream stuck with me throughout high school and into my undergraduate years at the University of Richmond. I took the required pre-med courses and graduated ready to continue pursuing my dream. That task, however, proved much more difficult than I imagined. It took two years of applications to more than 40 schools, which lead to two MCATs, working a full-time research job, managing a free healthcare clinic, ski patrolling on weekends and shadowing at my local hospital, until I finally was accepted.
Why did you choose to attend WVU?
I decided to attend WVU because the medical school took a chance on me and I was honored to accept the invitation. I worked so hard to get to that point in my education, and when I was accepted off the waitlist at WVU, all I could think was, "Let's get started!"
Describe your time at WVU. What's your favorite memory?
My time at WVU has been better than I could ever have imagined. The students, faculty, and especially the deans, have been an incredibly supportive team. In medical school, your work ethic and capacity for learning are tested every day. The group of people at WVU know this and work with you to support you in all your needs. From the first day of medical school, the deans emphasize the most crucial aspects of medical education, ranging from patient care to board scores, and finally matching into our desired residency. This leads me to my favorite memory—which is matching with my fiancée into our top choice residency programs for surgery and pediatrics. Although my fiancée went to a different medical school, our Deans worked together to compile her match results with mine so that we could open our envelope together at WVU's ceremony.
What advice would you give to someone thinking about attending medical school? Why should they go to WVU?
I would tell anyone interested in medical school to pursue your dream no matter how many obstacles stand in your way. The hard work and dedication that you put in will make you even more driven to succeed. Medical school is tough. It tests how you learn and how adaptable you are, but anyone can achieve their goals with the right tools and the desire.
Come to WVU because this medical school is centered around its students. Every person in this program wants its medical students to succeed. The deans are heavily invested in each individual and focus on education every step of the way. They go to every national meeting that involves medical students and graduate medical education so that they can remain up-to-date with the most innovative ways to teach and improve each person's learning experience. On my residency interview trail, I met people who knew of WVU and spoke of its reputation across the country. Students will graduate from this program ready to care for patients at a level above the rest. The clinical exposure here is vast and once you step out of the classroom, you are immersed in a hospital system designed to continue your medical experience caring for patients.
What's next for you?
I'm headed with my fiancée to the University of Rochester. I will be training in general surgery she will be training in pediatrics. We are thrilled to start this next adventure in our lives and both have so much credit to give to WVU for the opportunity!