Meet the Graduates: Lindsey Glotfelty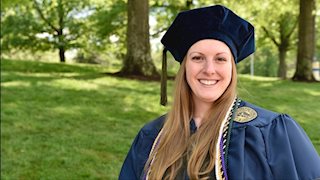 Lindsey Glotfelty
WVU School of Pharmacy Class of 2017
When asked what she wanted people to know about her, Lindsey Glotfelty of Finzel, Maryland, stated it's not really what she wants people to know about her, but rather the messages she wants them to get. She has four lessons that she has learned in her life, and they are the principles by which she lives.
Lesson 1: Always smile. Life is too short not to do so.
When Glotfelty was born, a complication caused her blood pressure to fluctuate and a blood clot to form on her spine, resulting in a spinal cord injury causing paraplegia. After a life flight and being hospitalized for two weeks, she was ready to start life — and start life she did.
When interacting with Glotfelty, you can't help but grin from her personality and humor.
"I started talking at the age of six months, and I haven't stopped since," she said. From there, she recounts a few tales from her life: her first wheelchair at the age of two (which was a pink Quickie wheelchair), being locked out of elementary school (we didn't ask for details) and trying out for the volleyball team her freshman year of high school. "Sadly, I didn't make the cut," she said.
Lesson 2: No matter what life throws at you, just keep pushing and life always has a funny way of working out.
It was around eighth grade that Glotfelty's medical issues began. The first wound infection from a spinal fusion surgery caused her to be on IV antibiotics for approximately a month. Her second medical issue occurred when she was in 11th grade, and this time the results were more severe. Because her fusion rods had broken at the base, she needed to have them repaired. She developed a wound infection and this time, was treated for the infection for almost a year, causing her to be homeschooled for half of her senior year. But staying true to her life lesson, she returned to school, went to prom with a peripherally inserted central catheter (PICC) line for her IV antibiotics and still managed to graduate second in her class.
She then attended Frostburg State University where she received her bachelor's degree in biology. A fever and chills during finals week her freshman year alerted her that something was wrong, but she finished the semester before contacting her doctor at Shriner's Hospital in Philadelphia. The diagnosis: she not only broke her spinal fusion rods again, but she also broke her spine and it shifted down slightly into her pelvis. After removing the rods and starting the regimen to clear the infections, Glotfelty's physicians were going to let her recuperate and continue treating the infection at home. The day before she was set to leave, she developed another fever that sent her to the intensive care unit where it was determined she was in septic shock.
"Besides my heart pounding and a little trouble breathing, I felt fine and was in good spirits," Glotfelty said. "I didn't really know what septic shock was at the time, or its survival rates, but I figured it must have been bad because my entire family drove all the way to Philadelphia at the drop of a hat."
Her final medical issue while completing her undergraduate degree happened while she was studying organic chemistry.
"I snapped my femur," she said. "Fortunately, this only resulted in a rod to hold the bone together and missing a week of school."
When others may have thrown in the towel, Glotfelty stayed the course. During this time period, she stayed enrolled in Frostburg State University by taking online courses, which helped her get credits for her double major in psychology. She graduated with bachelor's degrees in biology and psychology, a 4.0 GPA and was also a speaker at graduation.
Life Lesson 3: People are what really matters in life. The support of others is the key in making it through life's struggles, and success is not as sweet without having others to share it.
Family and friends are two of the most important things in Glotfelty's life. While the West Virginia University School of Pharmacy is an hour away from her home, the distance still allowed her to travel home every weekend and spend time with her family and fiancée. She is an aunt to a niece, two nephews and another potential niece or nephew on the way.
"Being an aunt and being able to teach my niece and nephews and watch them grow are a few of my biggest accomplishments," she said.
Life Lesson 4: Be humble and kind. Everyone has their own struggles and everyone has their own talents.
When Glotfelty is not in class, studying or spending time with family, she gives back to her hometown community by volunteering to assist with events with the Eastern Garett Volunteer Fire Department and the Grantsville Volunteer Fire Department. She is also active is several student organizations at the WVU School of Pharmacy, including the WVU chapter of the Academy of Managed Care Pharmacy, the WVU chapter of the American Society of Health-System Pharmacists-Student Society of Health-System Pharmacists, the Alpha Mu chapter of the Rho Chi academic pharmacy honor society and the Alpha Eta chapter of the Phi Lambda Sigma national pharmacy leadership society.
When asked why she chose pharmacy for her career, being in a healthcare field and being hands-on in patient care is what drew her to the profession.
"Having spent so much time in the hospital as the patient, I can relate to my patients," Glotfelty said. "Bedside manner is something talked about with physicians, but it really applies to all healthcare professionals. We have to remember that we're not just treating a disease state, we are treating a person. Also, as a patient, I was highly involved in my own care and would make recommendations to my providers, especially if they weren't familiar with my case. I hope to always involve my patients in their own care and make sure their voice is heard."
Glotfelty aspires to work in hospital pharmacy practice as a clinical pharmacist.
For more information: Contact: Amy Newton, WVU School of Pharmacy, 304.293.7192,
an