Meet the WVU School of Medicine Class of 2020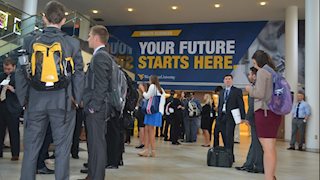 This is orientation week for the 110 members of the West Virginia University School of Medicine's Class of 2020.
These future physicians have been spending the week discovering the ins and outs of WVU's Health Sciences Center and getting to know each other. They are participating in orientation camp designed to initiate team building right from the beginning to prepare incoming students for the collaborative atmosphere that is fostered on campus.
The School of Medicine Class of 2020 represents 17 states with half of those students from West Virginia. This class consists evenly of 55 females and 55 males ranging in age from 21 to 38. Two are veterans – one a member of the U.S. Army Corps of Engineers and the other a radio operator for the U.S. Air Force. Several have already obtained master's degrees and one student is a doctor of pharmacy.
Other interesting facts about the WVU School of Medicine Class of 2020:
Several athletes are involved in sports including ultimate Frisbee, rugby, swimming/diving, and running;
One is a nationally ranked equestrian competitor;
A National Collegiate Athletic Association Woman of the Year for 2015;
An event singer; Irish dancer; classical pianist; community choir members; music composer; and, an orchestra flutist.
One student also participated in a 46-hour dance marathon;
Several world travelers and study abroad trips to countries such as Tanzania, Morocco, Costa Rica, Puerto Rico, and Denmark;
Several peer tutors and teachers;
Many were student leaders involved in various community service organizations;
The class also claims last year's alternate mountaineer as one of it's own!
The Class of 2020 will begin their studies on the Morgantown campus for the first two years of medical school. Students assigned to the Charleston and Eastern campuses will complete the remaining two years of studies and rotations at those locations.
As part of orientation activities, the School of Medicine will conduct the annual Oath of Integrity ceremony where students are ceremoniously draped with a stethoscope that symbolizes good listening, as doctors listen not only with their ears. This ceremony also represents the transition from freshly accepted students to doctors in training. Together, the Class of 2020 recites the pledge of honor that declares their loyalty and passion to the field of medicine and their patients, and to their academic duties as students.
For news and information on the WVU School of Medicine, follow us on twitter @WVUMedSchool, like us on Facebook or visit medicine.hsc.wvu.edu.