Back to

News
Middle school students brush up on what it takes to become a dentist
School of Dentistry hosts Brush with Dentistry event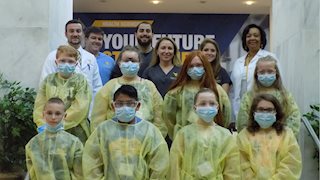 Middle school has been identified as a time when adolescents should engage in discussions about career options and begin learning about the academic path to college.
At West Virginia University's School of Dentistry, the Office of Dental Admissions, Recruitment and Access strives to introduce the state's middle school students to the top ranked health profession in the country according to U.S. News and World Report.
Brush with Dentistry is the school's summer program for West Virginia students who will be entering sixth, seventh or eighth grade the following fall.
The program features hands-on laboratory activities, a dental school tour and more.
The dental school hosts students and their parent or guardian for a full day of activities that highlight dental career options and the importance of oral health to overall health.
Families who participated Saturday, June 2 were from across the state.
Current dental school student ambassadors Donovan Walters, Lauren Bakos, Andrea Ballengee, Brennan Wood and Youseph Kassar participated in activities to illustrate to the youngsters how dentists transform lives through excellent patient care.
School of Dentistry prosthodontics resident Dr. Matthew Harper led a hands-on educational session where visitors got to work with instrumentation and materials in the dental school simulation lab.
With direction from Dr. Shelia Price, Associate Dean for Admissions, Recruitment and Access, Brush with Dentistry participants dressed the part in a session where they learned why dentists wear personal protective equipment including gowns, goggles and gloves. Price delivered a detailed presentation on preparation for becoming a dentist.
"The primary purpose of this action-packed program is to excite participants about dental career opportunities, demonstrate the importance of oral health to general health and well-being and partner with parents to help children achieve their dental education dreams," Price conveyed.
Additionally, School of Dentistry professor Dr. Lester Bakos addressed visiting students and adults in a presentation entitled "Prescription for Success".
The Assistant Director of Education and Evaluation of the Simulation Training and Education for Patient Safety (STEPS) lab, Dr. Lee Ann Miller, hosted the dental school guests for an informational session.
Professor of Periodontics, Dr. Robert Stuchell, and endodontist Dr. Lauren Namsupak volunteered time to explain specialty practices within the field of dentistry.
Brush with Dentistry concluded with information for parents from Christopher Morlock, financial aid counselor.
"Any time you have the chance to expose your children to something educational, I think it's a benefit to them," expressed parent Judy Moore. "The more college experiences they have before they go to college is a benefit so they can make their best decision in the future." Liberty, Moore's daughter, will be a sixth grader in St. Albans, W.Va.
Entertainment was provided for the families during lunch. Dr. Wayne Given, clinical associate professor, and dentistry student Brennan Wood performed live Appalachian music.
For pictures from the day's activities, check out the School of Dentistry facebook page.