Mountaineer Style Fashion Show to benefit Rosenbaum Family House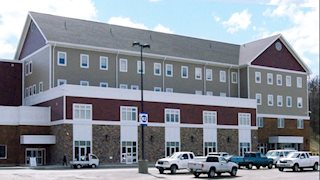 Event to be held Aug. 20 at the WVU Erickson Alumni Center
MORGANTOWN, W.Va. – For the Mountaineer faithful, one can never have enough West Virginia University products. Luckily, those who bleed gold and blue can attend the Mountaineer Style Fashion Show on Saturday, Aug. 20 at the WVU Erickson Alumni Center to see a wide array of WVU licensed products for every occasion and support a worthy cause – the WVU Medicine Rosenbaum Family House – at the same time.
In addition to the Fashion Show itself, which begins at 3 p.m., guests will have the opportunity to bid on several silent auction items, including WVU Football tickets and a guitar autographed by Brad Paisley.
There will also be exclusive on-site event sales and specials from Columbia, Dooney & Bourke, Nike, and more.
All proceeds from the event will benefit the WVU Medicine Rosenbaum Family House, which provides lodging for patients and the family members of patients being treated at Ruby Memorial Hospital and the WVU Cancer Institute Mary Babb Randolph Cancer Center. In 2015, the Family House provided lodging and services for 1,977 families from across the United States and beyond. Since opening in 1999, the Family House has served more than 15,000 families. Programs provided include meals, laundry services, a day room, and other support. Funding for these services is provided by WVU Medicine and generous private donors.
Doors open at 2 p.m. Tickets are $30 per person or $350 for an upgraded 10-seat VIP table, which includes VIP gift bags.
To purchase tickets, visit go.wvu.edu/FashionShow2016 or contact Jill Zangari, Rosenbaum Family House development officer at 304-598-6094 ext. 3 or jillian.zangari@wvumedicine.org.
For more information: Angela Jones-Knopf, Manager of Media Relations, 304-293-7087