Mountaineer triplets: WVU Medicine NICU physician lives the NICU parent journey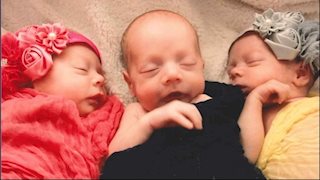 Like many young couples, my husband, Christopher Kiefer, MD, and I decided shortly after we were married that we wanted children, but the timing was never quite right. We were both in medical school, and then we moved to the Midwest for further training. I found joy in helping new mothers and ill babies as a doctor in the Neonatal Intensive Care Unit (NICU), and Chris loved teaching new doctors to care for patients in the Emergency Department. When we found jobs that we loved at WVU Medicine and were once again close to our families in West Virginia, the timing finally seemed perfect to start our own family.
But more and more time passed without a pregnancy. While it was painful to face the possibility that we might not be able to have children, we sought help from the WVU Center for Reproductive Medicine. Gary Horowitz, MD, and his team were informative and reassuring. After several months of treatment, we became pregnant just before Christmas 2015.
Our excitement became even greater on New Year's Eve 2015 when our first ultrasound revealed a normal, early twin pregnancy. Several weeks later, we were seen in the WVU high-risk obstetrics clinic, and a third little baby waved hello to us. Triplets!
As a neonatologist, my excitement was quickly tempered by worries about potential premature birth with a triplet pregnancy. Chris and I simply cannot say enough about the kindness, skill, and compassion of Cassie Leonard, MD; Courtney Cuppett, MD; Donna Dorinzi, WHNP; and our dedicated ultrasonographer Jennifer Graham who saw us frequently during the pregnancy and ensured that I was doing well and the triplets were growing normally. They answered all of our questions, reassured us when we lost sleep over potential pregnancy complications, and made plans for the safe delivery of our new family members.
Despite all of our fears, the months went by and I was feeling well. I continued to work in the NICU, and the triplets were growing normally. We began to settle into our normal routines — seeing patients, teaching medical students and residents, and becoming more confident in a scheduled delivery in July.
Suddenly, on the night of June 13 at 30 weeks' gestation, I went into preterm labor. The obstetric nursing team worked with incredible patience to monitor our triplets with this new development. After spending hours capturing all three heart rates, babies or I would need to move, and the nursing team would diligently start the search all over again. We will never be able to convey enough thanks to the on-call OB team (Karen Fluet, DO; Gary Wu, MD; and Erica Arthurs, MD) who helped the Kiefer triplets — Isabelle, Benjamin, and Eleni — make their debut into the world and made the complex preterm delivery look easy.
Waiting on the other side of the delivery room door for our triplets was the neonatal team that I often led. While I had arranged for bigger resuscitation teams for other multiple births in the past, as the mother of multiples myself, I felt great comfort in knowing that skilled colleagues like Greg A. Barretto, MD; neonatal nurse practitioners like Cathy Andria, PNP, Russell Mathews, PNP, Tiffany Blosser, NNP, and Kathleen Kinney, APRN; and several neonatal nurses were ready to offer whatever help the triplets needed. We are forever grateful for that calm, cohesive team — some of whom came from home in the early morning hours to help.
Over the next 52 days, we lived the NICU parent journey, something that I had counseled many families through over the past several years. While parts of the experience were what I expected, I feel forever changed as a physician to have lived the ups and downs of prematurity through my children. The professionalism, skill, compassion, and reassurance of all those on the NICU team when one of the babies (or one of us) had a rough day carried our family through a nearly two-month hospital stay. We recently were discharged from the NICU with three growing, healthy babies.
Before we became patients, Chris and I were so proud of working at the WVU School of Medicine and WVU Medicine, and we knew that our colleagues provided high quality, compassionate care to the citizens of West Virginia every day. Now that we received "a taste of our own medicine," we can only say that we had actually underestimated the skills, talents, and compassion of our colleagues and are humbled to work alongside these people each and every day.