Musket's Big Adventure book sales benefit WVU Medicine Children's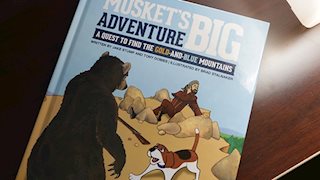 A new children's book from West Virginia University highlights the tale of a curious canine in search of a home and family at a place called the Gold-and-Blue Mountains.
Musket's Big Adventure, a 38-page, full-color title published by Mascot Books, reveals the origins of Musket, a dog created in 2012 and named by West Virginia child-care facilities and elementary schools. Proceeds from the book will benefit WVU Medicine Children's.
Known as the Mountaineer's little furry friend, Musket teams up with other critters in the book to overcome obstacles – one of which puts the pooch and our beloved buckskinned mascot in a precarious situation.
WVU University Relations staff furnished the concept, writing, artwork and design of the book.
Sharon Martin, vice president for University Relations, said the book's release before the holiday season is symbolic. For years, WVU Medicine Children's has been a gift to the community and the state, and "Musket's Big Adventure" is just a small gift back to Medicine Children's, she said.
WVU Medicine Children's provides maternal, infant and pediatric care for West Virginia and the surrounding region, giving care to high-risk mothers, premature infants and children with life-threatening conditions through adolescence to adulthood.
"Musket embodies the courage of many of those kids," Martin said. "They're small in stature yet their strength and willpower is insurmountable. We're extremely proud of this project and we hope the Mountaineer community embraces Musket's story and continues to embrace WVU Medicine Children's."
The story was written by Jake Stump, senior writer, and Tony Dobies, social media strategist; illustrated by Brad Stalnaker, professional technologist; and designed by Forrest Conroy, assistant director of design, and Sheree Wentz, multimedia specialist.
"This isn't a, 'Look, here's Musket at the PRT station. And here he is in front of the Mountainlair' type of book," Stump said. "We wanted to create an actual story, with real-world lessons in it. There's a tinge of sorrow and adversity, but Musket deals with it like a true Mountaineer. Perseverance, self-discovery, inclusivity, generosity – the traits that shape the Mountaineer spirit – are themes represented throughout the book."
"The Mountaineer community will have a chance to really get to know our friendly pooch Musket a bit better in 'Musket's Big Adventure,'" Dobies said. "He's our helpful hero, and we hope children and parents love what he stands for as a Mountaineer. And most of all, we're thrilled that proceeds from this book will go to a great cause. That makes the effort of producing a book that much more worth it for us."
For more information, read the news release.