NASA chief and WVU alum to speak at Health Sciences Center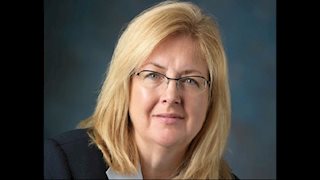 Thursday, May 12 at noon
Judith Hayes, M.S., M.P.H., NASA chief of Biomedical Research and Environmental Sciences Division at Johnson Space Center, Houston, Texas, will speak at a West Virginia University Department of Exercise Physiology seminar on Thursday, May 12 at noon in the WVU Health Sciences Center, room 1909.
Ms. Hayes' talk will feature "Exercise is Space Medicine: Optimizing Astronaut Performance." The
event is free and open to the public.
Ms. Hayes earned bachelor of science and master of science degrees in Exercise Physiology from West Virginia University in 1982 and 1983 respectively, followed by a master of public health degree in Occupational Health/Aerospace Medicine from the University of Texas Health Sciences Center in 1995. In 2002, she completed a joint fellowship appointment at The Royal College of Surgeons of England and the London School of Hygiene and Tropical Medicine in the United Kingdom.
Ms. Hayes maintains strong ties with WVU, proudly serving on the WVU College of Physical Activity and Sport Sciences (CPASS) Alumni Visiting Committee from 2005 – 2012, acting as Chair in 2013 – 2014. She became a member of the CPASS Hall of Fame in 2009, was a 2013 Outstanding Alumnus, and was inducted into the WVU Academy of Distinguished Alumni in 2015.
For more information, please contact Rebecca Miller at 304-293-7767.