New artwork showcases life on the microscopic level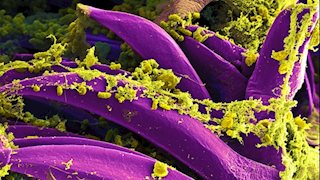 A selection of National Institute of Health images now displayed at the West Virginia University Health Sciences Library uses the beauty of the building blocks of life to brighten the space and inspire students.
Life: Magnified is a stunning collection of vibrant scientific images of cells, bacteria, viruses and other organisms magnified about 50,000 times and illuminated by light boxes. Thirteen of the slides now welcome Health Sciences Library visitors.
"We're really grateful for what the NIH and WVU Libraries have done to improve the environment for learning at the Health Sciences Center," said Clay Marsh, M.D., vice president and executive dean for Health Sciences. "This contributes to the well-being of everyone who uses our campus library."
Many of the pictures were created by NIH-funded researchers as part of their work to study basic life processes and gain insights about health and disease. The bold colors are the result of tinting with dyes or graphic design programs to enable scientists to study selected structures within a cell.
"While these striking images are attractive pieces of art, they also show the amazing complexities in nature," Dean of Libraries Jon Cawthorne said. "We hope the pictures will help people develop a greater understanding and appreciation of the research and medical advances happening at WVU."
Life: Magnified is a joint project among the National Institute of General Medical Sciences, the American Society for Cell Biology and the Metropolitan Washington Airports Authority's Arts Program. Initially, the original 46-image exhibit was on display in the Washington Dulles International Airport's Gateway Gallery June 2014 to January 2015.
Library staff member Susanne Rasmussen worked with National Institutes of Health's National Institute of General Medical Sciences staff to identify images from the original exhibit to hang in the library.
The addition of the Life: Magnified pictures is part of the Art in the Libraries initiative to fill library spaces with art exhibits and pieces created by nationally recognized artists with ties to West Virginia or WVU and noteworthy art created by WVU students.
"Art can spark new ideas, conversation, inquiry, emotion, and memory," said Alyssa Wright, chair of the Art in the Libraries Committee. "The Libraries value an exchange of ideas and exploration of new perspectives."
The Art in the Libraries committee Wright, Rasmussen, Linda Blake, John Cuthbert, Sarah Grant, Beth Royall and Curtis Tenney.