New Friends Gift Shop open at Ruby Memorial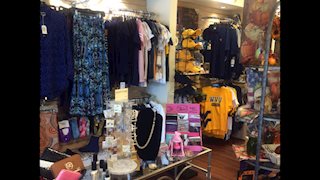 Grand opening tailgate is this Friday
MORGANTOWN, W.Va. – With construction complete and the shelves fully stocked, the new Friends Gift Shop at WVU Medicine Ruby Memorial Hospital will celebrate with a grand opening tailgate event from 3 to 7 p.m. on Friday (Aug. 21).
Visitors to the tailgate will have the opportunity to enjoy free food, special sales, and giveaways. Monti Bear will make an appearance, and Caitlin Barber, author of "Twas the Night Before Game Day," will sign books starting at 3:30.
The new Friends Gift Shop is more than 1,390 square feet and includes a scrub shop, gifts, snacks, WVU merchandise, home décor, furniture, and more.
Friends Gift Shop provides valuable services for WVU Medicine patients, their families, visitors, and employees. Proceeds from the shop benefit the mission of the hospital auxiliary, Friends of WVU Hospitals. Over the years, Friends has provided more than $1 million in funding for a number of patient comfort and care programs, including the patient/employee communication system, a Rosenbaum Family House stay unit, the Comfort Fund and the Norma Huggins Cancer Research Endowment at the Mary Babb Randolph Cancer Center, the Betty Puskar Breast Care Center, CPR Anytime training kits for local schools, scales for heart patients, defibrillators, patient supplies and transportation, and much more.
--WVU MEDICINE--
15-129
For more information: Amy Johns, Director of Public Affairs and Creative Services, 304-293-7087
ad: 08-12-15