New Ruby lobby is now open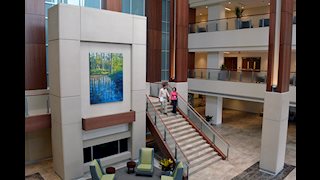 Navigators are helping employees, patients and visitors find their way
If you came to work through the Ruby Memorial Hospital lobby today, you may have noticed a few changes. That's because the new, four-story atrium is open.
Stationed at the front door this morning, the friendly Ken Buseman, one of WVU Medicine's Navigators, guided employees, patients and visitors, mostly directing them toward the elevators. The concierge staff, conveniently located at a new information desk near the atrium's front entrance, also assisted patients and visitors.
The Friends Gift Shop will move into space that's close to its original location in the east lobby. The new, expanded gift shop is expected to be operational by mid-July. The new lobby will also restore access to the main entrance of WVU Medicine Human Resources.
This summer, construction will begin on a Starbucks, which is slated to open in October.
During construction of the Starbucks, the coffee bar, which was temporarily located in the west lobby, has moved to Ruby on the Run on the fourth floor near the cafeteria.