NICVIEW at WVU Children's Hospital keeps families together for the holidays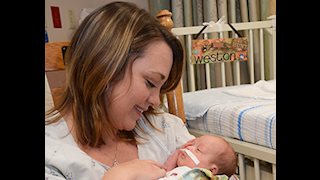 MORGANTOWN, W.Va. – Holidays are special times for families to gather together. But for some families, their tiniest members can't come home for the holidays.
Families with infants in the Neonatal Intensive Care Unit (NICU) at WVU Children's Hospital at Ruby Memorial now have a way to gather the whole family together, even if they can't be with their infants in person.
The WVU Children's Hospital NICU offers NICVIEW, a system that allows parents to watch over their sick child even when they are not able to be at the child's side. Parents receive a secure username and password to a live video feed from a camera positioned over their child's bed. They can access the video from any device that can connect to the internet.
"It's such a peace of mind to be able to just look," Bridgeport, W.Va., resident Lindsey Lucky, whose son Weston was born at just 28 weeks and 3 days, said. "Because sometimes that's all you really want. You don't necessarily want to talk to a nurse, you just want to look at your child and know they're okay."
WVU Children's Hospital's system went live with 10 cameras in September. Sanjay Mitra, M.D., an attending physician, previously worked in a facility that was equipped with NICVIEW, and he worked to bring the system to WVU Children's Hospital.
Since its launch, the NICVIEW system at WVU Children's Hospital has been accessed more than 12,500 times — about 4,000 views per month. Families have logged in from across West Virginia, more than half of the United States, and as far away as Australia and Saudi Arabia.
Right now the NICU's 10 cameras have to be rotated among families on a waiting list, but the goal is to purchase 30 more cameras as soon as possible so every family can have a camera.
"Families can have a great deal of inner turmoil between, 'Do I stay at the bedside, do I go home and take care of what I need to take care of, do I go back to work, I have other children' — numerous stressors, and they have to decide, 'Where am I going to put myself?'" Jann Stewart, R.N., NICU nurse manager, said.
Lucky, for instance, also has a two-year-old daughter. With NICVIEW, she can spend time at home with her daughter and still feel connected to Weston. Her husband, who works in Ohio, can check in on his son any time he wants. Grandparents, aunts, and uncles are also making good use of the NICVIEW system.
NICVIEW has even helped Weston's big sister get used to having a new family member.
"In a two-year-old's mind, how do you grasp the concept that he's real and coming home? The NICVIEW camera gives her a sense that he is going to come home and live with us. She's at the point now where she talks about him and asks about him," Lucky said.
"We always have in mind the need to keep families connected," Stewart said. "I think this is such a great opportunity, and I'm so appreciative of the people who made it possible."
Photo caption: Lindsey Lucky cradles her son Weston in the NICU at WVU Children's Hospital. Lucky depends on her NICVIEW camera to keep a motherly eye on Weston when she's home with her two-year-old daughter.
--WVU HEALTH--
14-216
For more information: Amy Johns, Director of Public Affairs, 304-293-7087
sw: 11-12-14