Back to

News
NIOSH renews funding of WVU occupational health and safety training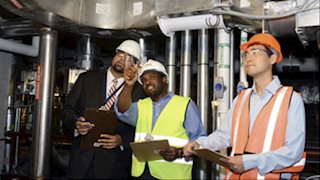 West Virginia University has received a five-year, $2.2 million competitive grant from the National Institute for Occupational Safety and Health to continue to offer advanced training to physicians and engineering students.
The WVU School of Public Health will provide the only occupational medicine residency training for physicians in the Appalachian region. "There are only about two dozen occupational medicine residencies in the country, even though the need for these physicians is very high," said Chris Martin, M.D., M.Sc., who leads the program at WVU.
The two-year program allows physicians to complete both a residency and a master's degree in public health. Upon graduation, they are prepared for positions in public health agencies, research and industry. "We have an extremely good track record, since 1988, of placing physicians in service in West Virginia and across the Appalachian region," Martin said.
West Virginia's rate of fatal occupational injuries was 6.9 per 100,000 workers in 2012 – more than double the national rate of 3.2. "Our population is in particular need for occupational medicine specialists because of a preponderance of hazardous, extractive industries, broader unmet public health needs, and the challenges of a poor, rural population," Martin said.
In addition to the residency program, the NIOSH grant will support industrial hygiene and ergonomic graduate programs in WVU's Statler College of Engineering.
NIOSH operates a large research facility on WVU's Health Sciences campus, and its physicians and scientists are an important part of the training program. Residents participate in internships, practicums and projects alongside NIOSH professionals – including investigations of on-the-job fatalities and outbreaks of disease vital to advancing workplace safety and health.
"We are pleased to continue our valued partnership with West Virginia University," said NIOSH Deputy Director for Program Margaret Kitt, M.D., M.P.H. "As an occupational medicine physician, I can attest to the critical importance of programs like WVU's. Our support coupled with WVU's culture of educational excellence is vital for meeting the ongoing and growing public health need for dedicated occupational medicine physicians, industrial hygienists and engineers in West Virginia and the surrounding Appalachian region."
Although the School of Public Health at WVU is fairly new – established in 2012 – the Occupational Medicine program has been part of the University's offerings for more than two decades. The residency program originated in the School of Medicine and is transitioning into the School of Public Health along with other occupational medicine clinical, educational and research operations.
(Photo: WVU Occupational Medicine residents Yusef Sayeed, M.D., Harrison Ajeh, M.D., and Ge Ma, M.D.)
For more information:
Bill Case, WVU Health Sciences, 304-293-8045; casew@wvuhealthcare.com or
Tanya Headley, NIOSH-Morgantown, 304-285-6278; tfh4@cdc.gov