Nursing alum lends 'helping hand' to rural communities around the globe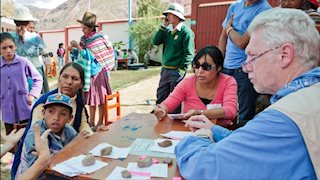 For many people, summer means hitting the beach or trying out the newest roller coaster at an amusement park. For Francis Boyle (BSN '86), it means lugging a backpack full of supplies and traveling by foot and vehicle on rugged, unfamiliar roads; crossing rivers on makeshift rafts; and setting up clinics to visit patients in remote areas of developing nations.
This is how Boyle, a STAT nurse at WVU Medicine Ruby Memorial Hospital, has spent much of his vacation time during the past eight years. He traveled to Kenya and Peru twice and made four trips to Bolivia to provide medical care and education to those in need through Project Helping Hands (PHH) — a non-affiliated, not-for-profit organization dedicated to providing sustainable healthcare and education programs to people in developing countries through culturally sensitive adventure.
Boyle frequently serves as team leader on these two-week medical missions that are ranked from mild, where teams typically stay in one location and are housed in a hotel, to extreme, where teams often travel daily to a new location while working and sleeping in very remote regions with few amenities. Most recently, Boyle led an extreme team in Peru, where a volunteer group of RNs, PAs and other medical personnel encountered rough roads and altitudes of 12,000-13,000 feet. "We went from village to village setting up clinics and providing primary care to hundreds of patients," said Boyle.
It was at a medical conference that Boyle, a certified critical care RN, learned about Project Helping Hands. During a presentation, PHH Founder and Executive Director Jeff Solheim "flashed a couple of pictures of his travels with Helping Hands. That was the hook," said Boyle. He asked Solheim for more information, filled out an application, and before he knew it, Boyle was on a flight to Bolivia.
The PHH office in Grants Pass, Oregon, coordinates transportation and puts together teams' itineraries. Boyle and team leaders communicate with the mission's senior medical person and make a list of the supplies needed. Leaders then relay to each team member what to expect and bring on the trip. Each volunteer is responsible for paying for their own travel expenses and for obtaining and carrying with them a bag of approximately 50 pounds of donated medical supplies and over-the-counter medications. Teams also obtain prescription medications through various organizations around the U.S., such as the Brother's Brother Foundation in Pittsburgh, Pennsylvania.
Once at their destination, teams familiarize themselves with the area and take time to get acquainted with each other. Then, said Boyle, "as team leader, you take care of the logistics — where to get food, water and how to get around."
During the trip to Peru earlier this year, said Boyle, "We would rise around 5 a.m., find some hot water for coffee, get some food, then have a team meeting and make sure everyone was well. We would lay out the plan for the day and where we would set up the clinic. Sometimes we met first with the town elders to plan the clinic set up." Village residents are notified as far in advance as possible that a clinic will be in their area. "Usually we open the clinic around 8 a.m. and typically get to see everyone that shows up for clinic, using the triage system, seeing those in order of serious need," said Boyle, "We stayed a day or a day and a half at each location then moved to the next village. It was exhausting but very rewarding."
During clinic, the medical volunteers are paired with translators who meet with the families to discuss their concerns and needs before they are seen by a PA or RN and given a physical. "We try to look at all the family members even if only one member is there to be seen."
We use our eyes and ears since we don't have the equipment to do imaging and x-rays or blood work other than blood sugar meters to test glucose levels," Boyle said. "If someone needs advanced services, there are funds available for transporting them to be treated at the closest facility."
Teams sometimes offer seminars for the person in a village who has taken on the role of helping the locals get healthcare. The individual in this role may not have a medical background. Seminars include first aid and basic emergency medical services such as CPR training, basic sanitation, nutrition and water purification. In the U.S., "we get clean water from the faucet," said Boyle. "People in these remote locations do not. A lot of times water is one of the things that make them sick. Often they know this and we work to teach them how to make it safe to drink."
While meeting with the patients one-on-one, the medical staff may show patients how to properly lift objects to protect their backs, teach about ergonomics, or demonstrate proper oral hygiene. They share educational handouts in the native language, when available, and information about any medications given. "The biggest impact we have is teaching patients about how to take good care of themselves," said Boyle. The knowledge passed on benefits the patients long after the team moves on.
Through PHH, Boyle has worked with medical professionals from all over the world in areas of the globe that few people get to see. All while using his nursing skills to make a positive impact on the lives of those in need. "It's just incredible," he said.
Project Helping Hands currently organizes 12-15 volunteer medical teams annually to service Bolivia, Cambodia, Dominican Republic, Haiti, Kenya, Peru, the Philippines, and Uganda.
Photography by Katharine Kimball Photography
For more information: Tara Curtis, 304.581.1772