Nursing leader tapped to head faculty practice and community engagement efforts at WVU School of Nursing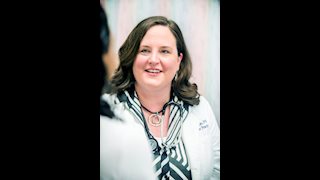 Experienced nurse practitioner and business professional Dr. Toni DiChiacchio has been named assistant dean for West Virginia University School of Nursing's faculty practice and community engagement.
DiChiacchio will oversee and facilitate faculty practice opportunities in West Virginia; establish and enhance community partnerships to provide unique learning and outreach projects for nursing students; promote the school's mission at local, state and national levels; and identify opportunities to address community health needs, including the development of a community-based nursing practice, that are in line with the strategic goals of WVU's Health Sciences Center.
"We are thrilled to have Toni join our team in this leadership position with the School of Nursing. She brings a unique blend of healthcare and business experience which will enhance the visibility of our faculty and students while helping us better meet the healthcare needs of the people of West Virginia," said Tara Hulsey, Ph.D., R.N., dean of the WVU School of Nursing.
DiChiacchio received a Doctor of Nursing Practice from WVU in 2014. She also holds a master's degree in nursing from Florida Atlantic University, an associate's degree in nursing from Indian River State College and a bachelor's degree in accounting and economics from Shepherd University.
Before joining the School of Nursing, DiChiacchio owned and operated Health Thru Care, LLC in Morgantown, a clinic specializing in primary care. Prior to that she worked as a nurse practitioner at Preston Healthcare Services and as an advanced practice registered nurse at Ruby Memorial Hospital and at St. Lucie Medical Center. After graduating from Shepherd, she worked for the Internal Revenue Service in Fairfax, Virginia, while earning her CPA, and later opened her own accounting practice.
"It's an exciting time to be joining WVU. The University, Health Sciences and School of Nursing leadership have a dynamic, progressive and inspiring vision. I'm honored and invigorated to be part of such a collaborative effort to enhance the lives of West Virginians," said DiChiacchio. "We have unique challenges in this state and I look forward to working with our faculty and students who are involved in wonderful programs and activities that not only strengthen educational experiences, but provide critical resources to our community. Together we will create new, cost-effective innovations to enhance those experiences, outreach efforts and our mission in nursing practice."
DiChiacchio is the recipient of numerous state and national awards, including the Outstanding Alumna and Outstanding Student awards, both from the WVU School of Nursing (2014), the West Virginia Nurses Association Politically Active Nurse of the Year award, and the Advanced Practice Clinical Excellence award from the American Academy of Nurse Practitioners, among others.
For more information, visit nursing.hsc.wvu.edu.