Officials break ground for WVU Medicine Outpatient Surgery Center; photo gallery added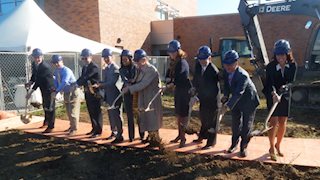 Officials from WVU Medicine, WVU and the city of Morgantown broke ground for a new $29 million outpatient surgery center at University Town Centre Oct. 15.
The center, which will serve adult and pediatric patients, is two stories and 60,000 square feet, and will be an addition to WVU Medicine University Town Centre. It will include four operating rooms and four endoscopy suites, and will house more than 50 full-time employees. It will open in mid-2017.
In addition to offering pre-admission testing, the center will offer gastrointestinal endoscopy procedures and outpatient surgery for various service lines, including:
General surgery
Gynecology
Ophthalmology
Orthopaedics
Otolaryngology
Plastic
Vascular
"What we're doing here today, along with breaking ground for a new, state-of-the-art outpatient surgery center, is answering a call," Albert L. Wright, Jr., president and CEO, WVU Medicine-WVU Hospitals, said. " It's a call from citizens throughout the region who need our care, particularly specialized care. And WVU Medicine is where they look for answers."
Wright said the building will be an important hub for care because of the increasing number of ambulatory surgeries, including endoscopies, WVU Medicine performs. Through August, WVU Medicine volumes have increased by 15.5 percent compared to the total number from last year, Wright said.
Sanford Emery, M.D., M.B.A., chair of the WVU Medicine Department of Surgery, said improving access to care is crucial to the patient experience. The WVU Medicine Outpatient Surgery Center will give patients and their families a more pleasant setting compared to the hectic nature of a major medical center.
WVU President Gordon Gee praised the recent expansion of care by WVU Medicine, including the new center, and is proud of the statewide reach of the WVU Medicine brand.
The ground breaking was followed by a reception at WVU Medicine University Town Centre.
A photo gallery of the event is available here.