On target: WVU Medicine tops goal of '200 Nurses in 150 Days' effort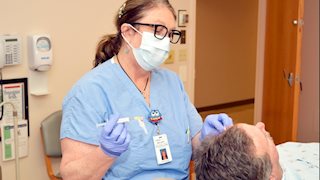 When it comes to hiring nurses, WVU Medicine has good news and better news.
First the good news: the enterprise hired its 204th nurse Dec. 1, exceeding the goal of its "200 Nurses in 150 Days" campaign. The better news? The campaign continues through the end of December.
"It was an ambitious goal, which could not have been achieved without a lot of hard work and a considerable amount of teamwork within Human Resources and with other departments, units, and individuals," Leeann Cerimele, chief human resources officer, said. "It's important to note that we still have work to do. We still need to hire many nurses to keep pace with the demand for our care."
The influx of nurses is crucial because the new, 10-story southeast tower at Ruby Memorial Hospital opens in January 2017, adding 114 new beds. As incentive, nurses were offered a $10,000 signing bonus, and employees were offered a cash bonus and extra PDO for referring qualified candidates.
In all, 516 RNs have been hired in 2016, compared to 355 in 2015 and 229 in 2014. There are 47 RNs already committed to start in 2017.
Cerimele credited the Marketing and Communications Department for establishing branding messages that helped jumpstart interest in WVU Medicine. In particular, a video showcasing WVU Medicine and the surrounding community has been a valuable tool in the recruitment effort, she said.
She also credited the support of the Department of Nursing and its leadership, particularly Doug Mitchell, who was named vice president and chief nursing officer in April.
"Doug has been instrumental in fostering a collaborative and positive partnership between nursing and HR and has consistently supported our efforts and goals," Cerimele said.
Once hired, WVU Medicine is increasing its efforts of retaining nurses. One initiative designed to help transition new nurses to the organization is the First Year Experience Program, a collaboration between HR and Nursing. The program is designed to provide networking and social opportunities for newly-hired nurses through a series of monthly events, such as a football tailgate, and a hike and picnic at Coopers Rock. Families are also invited.
"We're proud to have the opportunity to show so many people what WVU Medicine and Morgantown have to offer, and many of them have joined our growing team," Cerimele said. "We think our programs will enhance the experience for nurses and allow them to flourish and grow with us."