Orthodontics program graduates three accomplished dentists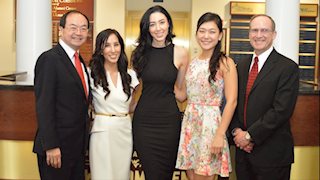 From left to right, Dr. Peter Ngan, orthodontics chair and program co-director, Dr. Kelly Uyen Nguyen, Dr. Marina Gonchar, Dr. DoBin Choi, and Dr. Tim Tremont, program co-director.
West Virginia University's postgraduate program in orthodontics is an intense, three-year experience that prepares dentists for careers in the care of patients with misaligned teeth or jaws. Only a handful of students enter the program each year.
The 2017 graduating class includes three students – all women – from diverse backgrounds. "This is our first all-female class, and each of the graduates this year brought unique experiences to the program," said Peter Ngan, D.M.D., who leads the orthodontics program. "They are all outstanding Mountaineers."
Dr. Marina Gonchar and her family came to the United States from Russia when she was ten years old, and settled in Massachusetts. After she completed dental school at Boston University, she came to WVU for her graduate education. She was nominated to the Journal of Clinical Orthodontics Best Resident of the Year competition, and represented West Virginia at the American Association of Orthodontists Advocacy Conference.
Dr. DoBin Choi came from South Korea to the United States when she was 14. She completed both her dental education and orthodontic training at West Virginia University. "One of the reasons I can be where I am today is that WVU encourages students to explore and choose what they want to learn in the curriculum," Dr. Choi said. One of her orthodontic case reports was published in the Moyers Symposium Monograph. Her research work with Dr. Ngan will help dentists speed the work of completing patients' braces.
Dr. Kelly Uyen Nguyen was born in Orange County, California. Her parents came to the United States in 1975 after the Vietnam war. She completed her dental education at Nova Southeastern University. Dr. Nguyen launched a prospective clinical trial to broaden the scope of orthodontic treatment in young adults in the WVU clinic. She was able to share her research at a West Virginia Dental Association meeting and results of her research work will also be published in an upcoming orthodontic textbook.